Painters from Viet Nam, Malaysia headline exhibit
(18-04-2006)
by Bach Lien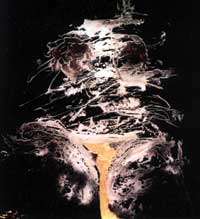 Buoc Song Hanh (The Intermingling of Arts), an exhibition featuring contemporary paintings by both Vietnamese and Malaysian artists, opened last Friday at the Viet Nam Fine Arts Museum.
Mixing different styles and themes, the 31 works were created and supplied by 12 Malaysian and seven Vietnamese painters.
Nguyen Xuan Tiep, deputy director of the Museum, said the paintings demonstrated individualism in the arts, a combination of styles and a blend of different approaches and discoveries. It reflects the ambition of the artists to enrich and contribute to the community's cultural life. Highlights of the exhibition include Summer by Ha Tri Hieu in oil canvas featuring young woman with her back to a door, flowers in hands and eyes closed, she smells them while the sun shines down on her.
Malaysian works are punctuated by Chiang Shih Wen's Another New Day in oil, a collage of triangular arrangements in a patchwork of darker pinks, greens and blues that merge into an animated street scene at dawn and Sound of Life by artist Ng Bee, an oil on canvas in cubist style with vibrant colours and mesmerising juxtapositions.
"Audiences visiting the exhibition will be able to see the changes Malaysia has gone through in the last 30 years. I want audiences to remember the country 30 years ago and think of what differences exist now, what we lost," explained Ng Bee regarding his painting that expresses the preservation of a healthy living environment in the material and spiritual worlds. Bee arrived in Ha Noi for the first time to attend an art camp in 2001 and has since grown attached to the country's peace and beauty. He has participated in five solo and group exhibitions since. He will debut his own exhibit at 42 Trang Tien Street in Ha Noi on Friday.
Long Thien Shih, one of the 12 Malaysian painters, said: "In the course of working for the exhibition, we have not only learned from one another, but have also shared our convictions and inspirations. The work involved in preparing for an exhibition like this one is a significant aspect of cultural exchange, felt deeply in the heart and soul."
A similar event was held in Kuala Lumpur last year. "I hope that these displays will bring the public closer to enjoying the contemporary arts of Viet Nam and Malaysia," Tiep added.
Organised by the Vietstar Advertising and Trading Company Ltd, the exhibition runs until April 24 at the Viet Nam Fine Arts Museum at 66 Nguyen Thai Hoc Street in Ha Noi. — VNS