Reality TV takes on Vietnamese pop stars
(04-07-2007)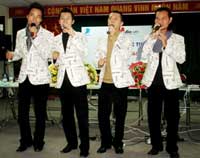 Oh what a night: AC&M sings at a live performance that also appeared online so audience members and internet participants could pose questions to the performers in January 2007. — Photo courtesy Mdia.vn
HCM CITY — Filming for a new television series centred around the real life stories of one of Viet Nam's favourite pop groups, AC&M, is set to begin by the end of this month.
Director of the 25-episode series My Khanh said the show, to be screened on HCM City television, is the first in Viet Nam to use the lives of a pop band to propel the plot. "It is based on real stories of each member. We will be focusing on vocalist's lives, their passions and daily trials," the director said.
The series, named A Capella, takes its name from the Italian term used to describe the type of singing that has made the band famous – voices unaccompanied by instruments.
On this all important theme AC&M leader Thuy Vu commented: "Cappella is new to Vietnamese audiences in general. This is a good opportunity to make it more popular."
According to Vu, band members were getting ready for action at the HCM City Theatre, and Cinema College, where they were undergoing training. "It's a new field for us that we want to explore," the singer said.
Acting is just another string to the bow of the dynamic group who are planning to release two more albums whilst filming the TV series. One, written by composer Thanh Tam, is dedicated to traditional Vietnamese music whereas the other, produced with composer Duc Tri is more in line with classical sounds.
Also on the agenda for the busy singers, is a two-night show in California in the US in October.
AC&M have been on the Vietnamese music scene since 2002 when four humble graduates from HCM City's Conservatory of Music: Dinh Bao, Hoang Bach, Nam Khanh and Thuy Vu, wowed audiences with their angelic harmonies. Particularly memorable among the band's initial performances was the traditional Vietnamese song, Co La(Graceful Stork) and the English Christmas carol, Away in a Manger.
Since then, the band has released three albums: AC&M Vol1, Xin Chao (Hello) and Dem Nay Co Mua Roi (It's Raining Tonight). In addition, each member has taken the opportunity to release their own albums.
Amongst the awards crowding the foursome's prize cabinet are Viet Nam's 2003 Best Song award, and Best Band in Viet Nam for both 2004 and '05. Recently, the band was awarded the title of Most Stylish Artist of the Year as voted by the Viet Nam Fashion Design Institute and Mode magazine. — VNS