US veteran draws portraits of local artists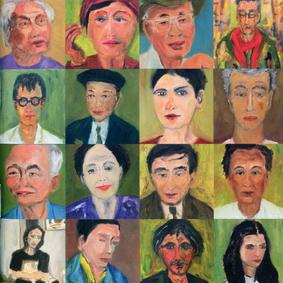 The three-day event, entitled "Một gương mặt của lịch sử" (A face of history), was part of poet Kevin Bowen and his colleagues visit to Vietnam.
Kevin drew the portraits of the famous poets, writers and artists during his meetings, including poet Vu Tu Nam, writer Nguyen Quang Sang, writer Nguyen Ngoc, writer Nguyen Khai, poet Lam Thi My Da, poet Thu Bon, and poet Huu Thinh.
His art works are on display at No.52 Hai Ba Trung Street, Hanoi, and will subsequently be presented to the Museum of Vietnam Literature.
Musical dramas take to stage for holiday season
Entertainers from HCM City's leading drama troupe, the IDECAF Stage, are preparing for musical dramas this Christmas with two works, Hoang Tu Gau va Hat Dau Than (Bear Prince and Magic Beans) and 12 Ba Mu (Twelve Midwives).
Directed by Dinh Toan, Hoang Tu Gau va Hat Dau Than is about a Bear Prince and the magical adventures and obstacles he encounters in his life.
Despite the challenges that befall him, the prince continues to believe in love and offers help to others.
The VND300 million (US$14,000) – production was first staged in September, and has attracted both parents and their kids.
Its new version will be staged on Friday, featuring veteran actors Thanh Loc and My Duyen.
"The Christmas performances are our opportunity to make an impression and show drama lovers what we can do," said up-and-coming theatre talent Toan.
"We've worked under a lot of pressure, so we hope we can dazzle our young audiences and their parents as well," he added.
Toan's staff will display skills in music, dance, pantomime and circus tricks.
Last week, young audiences screamed and laughed at the opening show of 12 Ba Mu.
Directed by Vu Minh, the comedy has a mixture of traditional and modern styles.
It soon became so popular that ticket buyers had to stand in long lines at the box office.
According to IDECAF's art director Thanh Loc, costume designers and specialists in sound and light have added a realistic element to the play through beautiful clothes, accessories and interior designs suited to the play's theme.
Hoang Tu Gau va Hat Dau Than and 12 Ba Mu are staged every night, from December 15-24, at 8pm at Ben Thanh Theatre, 6 Mac Dinh Chi Street, District 1.
Cham towers receive due attention
The G Cham tower group, one of the eight tower groups within the UNESCO-recognised relic site in Duy Xuyen district, the central province of Quang Nam, has been upgraded over the past decade.
The progress was announced at a meeting in Quang Nam on December 16 to review the ten-year implementation of a project to preserve the My Son relic site funded by the Italian Government.
The 1,633,993 USD project, under the management of the United Nations Educational, Scientific and Cultural Organisation (UNESCO), helped excavate more than 1,500 artefacts, built information boards and introduced publications on the relic site.
Under the project, professional officials and managers from central to grassroots levels have seen their capacity improve. Particularly, over 50 workers in localities received training in restoring relic sites.
Katherine Muller Marin, Chief Representative of the UNESCO Office in Hanoi, said the project mirrors the partnership between the Italian Government and Vietnam through the coordination of UNESCO, helping visitors understand more about the relic site.
Irina Bokova, UNESCO General Director, said during her visit to My Son last June, that the work manifests the commitments of local policymakers, heritage mangers, archaeologists, architects, restorers and workers.
It also mirrors Vietnam's commitments to protecting and developing the diversity and beauty of its cultural heritage, she said.
The My Son relic site, which is considered one of the major Hinduism temple complexes in Southeast Asia, was recognised by UNESCO as part of the world cultural heritage in 1999.
Techno Japan 2013 kicks off in Hanoi
Local and foreign scientists and businesspeople are gathering at an exhibition on Japanese technology and investment (Techno Japan 2013) in Hanoi from December 16-18.
The event creates a good chance for Japanese businesses to introduce their latest scientific and technological achievements in information, energy, space, biology and environment, as well as study Vietnam's investment policies, said Minister of Science and Technology Nguyen Quan.
Along with Techno Japan 2013, the third international exhibition on security and safety is being held in the capital to help local businesses enhance their capacity in the field for sustainable economic development, especially in the light of global integration.
A number of workshops related to the field will take place during the two exhibitions, helping businesses seek partners and investment opportunities.
Jointly organised by the National Agency for Science and Information Technology under the Ministry of Science and Technology, and the General Department of Logistics and Technology under the Ministry of Public Security, the two exhibitions are part of activities to mark the 40 th anniversary of Vietnam-Japan diplomatic ties.
Ben Tre to host fourth coconut festival
A coconut festival in the land where they are most famous will be held from April 7 to 13 in 2015.
Members of the World Coconut Association as well as 10 provinces of Viet Nam that specialise in coconuts will be in attendance. Farmers and companies involved in the coconut industry will also take part in the event.
The festival will feature a culture tourism week, coconut fashion contest, poem- composing contest, an exhibition of coconut products, a trade fair, flower bike parade, seminars on applying science in the coconut sector and the use of coconuts in healthcare.
VNA/SGGP/VNS/Dantri