Hard Rock Cafe reschedules Rubylux show
The Return of Rubylux show, originally scheduled from December 27-29 at Hard Rock Cafe, has been postponed. New dates for the show will be unveiled soon.
The American restaurant's celebration will go on with a live concert, free entry and offers on food and beverages on December 27.
It will also hold a New Year's party with a disco concert by the UK's Radio City and a special guest band.
The New Year celebration starts at 8.30pm until late on December 31, at 39 Le Duan Avenue.
Tet TV show gathers 60 celebrity singers, composers, actors
Around 60 famous artists and celebrities have come together for a television show called Huong Tet Viet (Vietnamese Tet flavour) for the Lunar New Year.
Musician Bao Chan, singers My Linh, and Hong Nhung, actors Ngoc Giau, Anh Vu, Lan Phuong, director Duc Thinh, will be among those dancing and singing about spring and sharing their feelings about the previous year and plans for 2014.
The show's three hosts will be from the country's three regions – Meritorious Artist Thanh Bach from the north, Miss Tourism Vietnam 2008 Ngoc Diem from the centre, and Miss New Model International 1998 Truong Ngoc Anh from the south.
They will talk with the guests about traditional Tet practices in the three regions both in olden times and now.
The three-hour show, directed by Vu Thanh Vinh, will air on VTV9 at 11pm on January 30, the last day of the Lunar Year of the Snake.
Special Golden Prizes awarded national TV fest
A documentary about conservation efforts to protect the white short langur, a primate listed as Critically Endangered in the Red Book, was awarded the Special Golden Prize at the 33rd National Television Festival.
The documentary was produced by VTV's Youth and Children's Department.
The Special Golden Prize was also given to the investigative documentary Tang Tan Luong Tam Chon Xuong Dong Vat Gia Hai Cot Liet Sy (Martyr's Skeleton Faked by Animal Bones) by the VTV Centre in HCM City.
The festival, which wrapped up on Sunday night in Ha Long City, also granted 33 golden prizes, 62 silver prizes and 139 merit certificates.
The five-day event included more than 520 works produced by domestic television centres, radio stations and media companies, competing in nine categories.
The TV works categories included children programmes, documentaries, investigative documentaries, scientific educational programmes, ethnic-language programmes, TV series, music and drama.
Hosted by VTV, the annual event aims to honour excellence and creativity while offering an opportunity for TV and radio stations to share experience.
This year's festival also featured two international conferences, focusing on television copyright, the digitalisation of terrestrial television and TV programmes in ethnic languages.
Army Day exhibition honours VN soldiers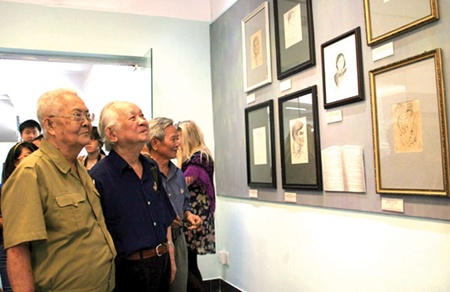 A display of 60 sketches and paintings depicting soldiers, people and their works during the resistance war by 17 veteran painters is now open in the War Remnants Museum in HCM City to mark the 69th anniversary of the Viet Nam People's Army founding (December 22nd).
Through the artworks, the younger Vietnamese generation and foreign visitors can understand the challenges that Vietnamese people and the army had to face.
The exhibition is titled Ky Hoa Khang Chien Vung Sai Gon – Cho Lon – Gia Dinh (Resistance War Sketches in Sai Gon – Cho Lon – Gia Dinh).
According to Huynh Ngoc Van, director of the museum, the priceless sketches and paintings not only have artistic value, but profound historical value.
During the war, those painters were also soldiers. Beside weapons, they brought along paper, pencils, colour and paint brushes. When there was a lull or stop in the fighting, they painted or drew.
Despite the difficult conditions, works by painters including Huynh Phuong Dong, Le Lam, Kim Lien, Nguyen Van Kinh and several others helped to contribute to Vietnam's victories.
Painter Dong, 89, said he worked very hard during the war and the years after. He has more than 20,000 sketches and paintings at home.
"During the war, I thought I could not survive under the continuous bombing. The exhibition makes me very emotional. I feel like crying when I see my paintings and my friends' works. Several of them are now dead," he said.
Major cities hold New Year galas
For New Year, many cities are organising activities, including countdown parties, music and drama performances, fireworks and sport contests.
Ha Noi will organise the New Year Countdown Party on New Year's Eve at the August Revolution Square in Hoan Kiem District. The countdown event was initially organised in 2010, attracting thousands of visitors.
From now until January 2, HCM city will stage art performances, folk games and sport contests and exhibitions. Fireworks will be held at the Sai Gon River Tunnel in District 2 and the Dam Sen Culture Park in District 11 on New Year's Eve.
The central city of Da Nang from December 20 to January 5 will hold a concert with guitarists from HCM City, Da Nang, Hue, Australia and Japan, as well as art performances, fashion shows and flower-decorated vehicles in Bien Dong Park. A countdown party in March 29 Square and street music programmes will also be organised.
In the UNESCO World Heritage Site city of Hoi An in the central province of Quang Nam, activities will begin on December 31 and end on January 1 at 1 am. Music and dance performances, costume street parties and a countdown event will be part of the festivities.
Vietnamese photo displayed at American exhibition
A photo titled "Gio Cat" by Vietnamese photographer Tran Viet Van has been selected as one of the 24 best photographs displayed at an exhibition in Portland, the US.
His image themed Mau Xanh (Green Color) was also chosen to showcase at an exhibition in New York on November 11.
Judges of the two competitions are well-known photographers who critique photos for the New York Times, The Toronto Globe and The Wall Street Journal magazines.
In 2013, Viet Van is the first and only Vietnamese photographer to win five honorable certificates of the Prix de la Photographic Paris (Px3) competition and his work has earned him a reputation as one of the most prestigious photographers in Europe.
Exhibition features General Nguyen Chi Thanh's life, career
A book and photo exhibition featuring the life and career of General Nguyen Chi Thanh opened in the central province of Thanh Hoa on December 21.
The exhibition, entitled "General Nguyen Chi Thanh – Life and Career", is part of activities to mark the 69 th founding anniversary of the Vietnam People's Army (December 22) and the General's 100 th birthday (January 1).
On display are 250 photos and 160 books, newspapers and documents on General Thanh's childhood, family and brilliant military career.
A similar exhibition is also taking place at the Vietnam Military History Museum in Hanoi on this occasion.
Nguyen Chi Thanh, whose real name was Nguyen Vinh, was born in 1914 in Quang Tho commune, Quang Dien district, Thua Thien Hue province. He took the post of Director of the General Department of Politics of the Vietnam People's Army in 1950 and was brevetted General in 1959.
During his 30-years in the revolutionary activities, he established himself as a talented leader with undaunted fighting spirit, making significant contributions to the glorious victory of the Party's revolution cause.
Yen Tu Buddhism relic seeks World Heritage recognition
Deputy PM Vu Duc Dam has just directed relevant agencies to establish a dossier on Yen Tu Buddhism relic to submit to the United Nations Educational, Scientific and Cultural Organization for recognition as a World Heritage.
The Deputy PM assigned the Ministry of Culture, Sports and Tourism to host and cooperate with People's Committees of the provinces of Quang Ninh and Bac Giang to work out the document and submit to the PM.
The Buddhism complex on the 1,068m Yen Tu Mountain is considered the capital of Vietnamese Buddhism, where in the 13 th century King-turned-monk Tran Nhan Tong (1258-1308) founded the first Vietnamese School of Buddhism called "Thien Tong" or Truc Lam Yen Tu Zen.
The 20,000 ha relic site includes two parts: Yen Tu Historical Heritage and Beauty Site, and Historical Site of Tran dynasty in Dong Trieu district.
Besides numerous temples, the relic also preserves many old religious and cultural documents such as precious prayer-books and monks' writings.
Yen Tu Mountain, also named White Cloud Mountain ("Bach Van Son"), is often covered by clouds. From the peak, visitors can enjoy the view of Ha Long Bay and the Bach Dang River or visit Dong Temple here.
Visitors can choose to either take the cable car to the peak or climb up the 6 km stone-paved path surrounded by thick pine forests.
Every year, thousands of pilgrims converge on the Yen Tu Festival which lasts from the first to the third lunar month.
KimB, Love & Light exhibited in town
Photo exhibition 'KimB, Love & Light' will be held from Saturday until Tuesday at Idecaf, 31 Thai Van Lung in District 1.
The photo collection was taken from February to July this year to mark KimB's 25 years as a stage designer. KimB's real name is Nguyen Thi Kim Lan.
The collection consists of 40 black and white portraits of KimB in stage settings and designs that she has made since 1987. All pictures were captured by photographer Gia Hai Nguyen and his team.
The collection used the light from the stage only and depicted all the settings where KimB is hard at work. The exhibition will give visitors an overview of what she has achieved in the last quarter century for local stages.
KimB, born in 1961, has contributed to nearly 150 comedies and dramas at professional stages such as 5B Vo Van Tan, Idecaf, Phu Nhuan Theater and HCMC Opera House. She also has won a number of awards during her career.
Literature by ethnic minority authors receives accolades
The 2013 Ethnics Minorities Literature and Arts Awards were presented yesterday to 60 outstanding authors at a ceremony held in Hanoi by the Vietnamese Ethnic Minorities Art and Literature Association.
One special prize went to a novel named Chuyen Cua Ly (Story of Ly) by Ma Van Khang, while three A prizes were presented to collections of short stories – Dan Ba Dep (Beautiful Woman) by Do Bich Thuy, Mot Nua Cua Nguoi Dan Ba (Women's Better Half) by Ha Cam Anh and Nghe Truyen Thong (Traditional Craft) by photographer Nong Tu Tuong. The organising board also presented twelve B prizes and nineteen C prizes to other authors. Four young authors were also honoured.
On the occasion, the Vietnamese Ethnic Minorities Art and Literature Association admitted 36 new members, bringing the association's membership to 916 authors.
The association also reviewed the association's activities in 2013. A series of activities, including the opening of training courses and a literature and arts composing camp for members, the publishing of outstanding works in the association's Ethnic Minorities Culture Magazine and the response to the movement urging locals to compose works on the theme 'Studying and Following the Moral Example of President Ho Chi Minh', were organised in 2013.
Harold Lloyd silent movie shown downtown
Hoa Sen University and Art House Cine will screen the classic silent film Safety Last! to commemorate the late comedy actor Harold Lloyd at 7:30 p.m. on Friday.
The image of Lloyd clinging desperately from the hands of a skyscraper clock during Safety Last! (1923) is one of the great icons of film history.
Released 90 years ago, the film was listed in the top 100 thrilling movies of all time by the American Film Institute. It was directed by Fred C. Newmeyer and Sam Taylor and starred Lloyd and Mildred Davis who later became Lloyd's wife.
Together with Charlie Chaplin and Buster Keaton, Lloyd was one of the most popular comedy stars during the silent movie era.
Born in 1893, Lloyd was best known for his good looks and his famous glasses. He made hundreds of shorts (1913-1920), 11 feature-length silent movies (1921-1928) and seven feature-length movies with speech (1929-1950).
The movie will be shown in room 204 on the second floor at the university's campus, 8 Nguyen Van Trang in District 1, coordinated by director Ba Vu.
Memorial Temple constructed for General Vo Nguyen Giap
A Memorial Temple for late General Vo Nguyen Giap and other national heroes was inaugurated in Tan An Commune in Vinh Cuu District in Dong Nai Province on December 22.
The Temple is located on a hill at the upper reaches of the Dong Nai River and covers an area of about 450 square meters in An Vien Vinh Hang Cemetery.
The Temple is in Vietnamese-style traditional architecture, a wooden three-compartment house, which was built from October to December.
The construction is also a commemorative area for Senior Lieutenant General Tran Van Tra, Lieutenant General Nguyen Binh, female General Nguyen Thi Dinh and military commander and poet Huynh Van Nghe .
Provincial leaders and thousands of people attended the opening ceremony honoring heroes of the country.
In addition, the Vietnam History Science Association has cooperated with the Antique Association in Thanh Hoa Province and the Association of Lam Kinh Cultural Heritage to cast a bronze drum, a canon and a sword as offerings to late General Vo Nguyen Giap.
The drum depicts images of the life and revolutionary career of late General Vo Nguyen Giap, and glorious victories of the Vietnam People's Army .
The cannon is 163cms long and was presented to General and the 65cm long sword symbolizes 65 years since Vo Nguyen Giap was promoted as a General.
These sacred objects will be donated to the commemorative area of General Vo Nguyen Giap in Quang Binh Province.
Source: VNA/VNS/VOV/SGGP/Nhandan