Music gala to usher in 2014
For the New Year countdown, Hanoians will be treated to a lavish music performance that will take place in Cach Mang Thang Tam Square in front of the Ha Noi Opera House on December 31.
The event will gather several new artists, including DJ Tenishia – a Maltese DJ duo comprised of Joven Grech and Cyprian Cassar, who were ranked in the 50 best DJs in the world according to British publication DJ Mag – and the Dutch DJ and music producer Ruben de Ronde.
Leading Vietnamese underground artists, including JustaTee, Big Daddy and Mr A will also hit the stage during the night.
The Ha Noi-based Rhapsody Philharmonic featuring young music students will be there to add diversity to the show.
In addition, the performances will be embellished by a spectacular light show which is expected to offer audiences a memorable experience.
An annual countdown event organised by Heineken will start at 8pm.
Champa Journey show celebrates cultural influences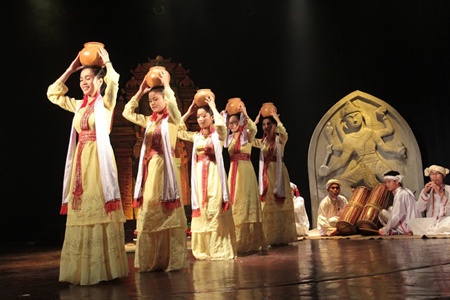 The show introduces Champa cultural features that have influenced Vietnamese spiritual life.
Organised by Ba Chu S Ltd. Co., its target audience includes foreign tourists and local people, especially students and busy urbanites.
The company expects the show to offer useful information about the cultural development of Viet Nam.
This is the first Cham cultural festival to be staged on a large scale in Viet Nam.
The Champa culture will be shown through folk dances and songs, performed by Cham instrumentalists and artists.
All of the stage props were designed and made by artists in Cham villages.
The programme will be performed regularly every Wednesday.
American book translator to talk in Ha Noi
The Bookworm will host a talk by Peter Zinoman on January 3, who is the translator and editor of the novel So Do (Dumb Luck) by famous Vietnamese critical writer Vu Trong Phung.
First published in Vietnamese in 1936, the novel was named by the Los Angeles Times as one of the best books of 2003 thanks partly to the contributions of Zinoman – an internationally recognised expert researcher on Phung.
His talk will start at 7pm at 44 Chau Long Street. Free entry. Enquire at [email protected]
Photo exhibition helps poor children
A charity photo exhibition is taking place at the M Gallery Hotel de L'Opera Ha Noi, 29 Trang Tien Street.
Depicting the beauty of Sa Pa, each photo is available to anyone who donates from VND1 million for poor children living in the northern mountainous provinces Lao Cai and Yen Bai. The lives of those children, together with their families, have been disrupted due to unusually heavy snowfall.
The money collected at the exhibition will be used to purchase books, notebooks and study materials before the upcoming Lunar New Year next month.
The photos will be on display in the hotel's main lobby until January 1, and donors will also receive a frame and a thank you letter from the photographer.
HCM City hotels host New Year celebrations
The HCM City-based hotels and restaurant will organise countdown parties to welcome New Year.
Acclaimed Russian DJ Katty Q will present a special performance on New Year's Eve at Sheraton Saigon Hotel's Level 23 Nightspot.
Hard Rock Cafe will host New Year's Fest 2014 featuring games, live music by the UK's Radio City Band and a special guest band, and prizes for best costumes.
Considered to be the best place for watching fireworks in the city, Hotel Majestic will hold a New Year's Gala with international food, live flamenco, acoustic and disco music, dancing, games and lucky draws at its rooftop from 7pm to midnight.
All the events are scheduled for New Year's Eve.
French institute hosts charity flea market
The Institute of Cultural Exchange with France (Idecaf) will organise a flea market this Saturday to raise funds for children bein treated at the Paediatric Hospital 2.
On sale will be dictionaries, DVDs, cassettes, French textbooks, magazines, books, video games, comics, and clothes.
The market will open from 2pm to 5pm. The institute is at 31 Thai Van Lung Street, District 1.
Saigon to welcome New Year with fireworks
"HCM City Welcomes New Year" is the theme of a six-day festival beginning on Friday at the September 23 Park in District 1.
It will feature photo exhibitions on the city's development in 2013, food, traditional music performances, and games for teenagers.
The city will organise two 15-minute fireworks displays on New Year's Eve at the Thu Thiem tunnel in District 2 and Dam Sen Amusement Park in District 11.
Underground party at Q4 bar
Popular Vietnamese rappers, dancers, and DJs will take part in a Live Free Underground Party featuring hip hop, R&B, and break dance at the Q4 bar on Saturday.
There will be rappers Cuong Seven and Hoang Ton, break dance groups Big Toe and Big South, and DJ Hiwatts besides Xgame performances.
The event will begin at 6.30pm at the bar at 7 Nguyen Tat Thanh, District 4. Admission is free.
Vestiges of prehistoric people unearthed at Dong Van karst plateau
Vestiges of prehistoric people dating back 10,000 – 30,000 years ago have been found during recent excavations across the Dong Van karst plateau in Ha Giang province.
The excavations were conducted in Lung Tam commune, Quan Ba district and in Mau Due and Mau Long communes, Yen Minh districts by archeologists from the Vietnam Archeology Institute (VAI) and the Ha Giang provincial museum.
According to Doctor Nguyen Truong Dong from the VAI, the excavations have unearthed some 50 stone tools, which were made in various shapes of axe, oval and horseshoe with typical features of Son Vi culture in the Paleolithic age in Vietnam.
Earlier, vestiges of the prehistoric men were also found in Sua Can Ty archeological site in Can Ty commune, Quan Ba district, where archeologists discovered 200 stone-made tools. This is a significant discovery which contributes to researches of prehistoric age in Ha Giang province and Vietnam in general.
Circus programmes to celebrate New Year
A special programme will be staged at Hanoi's Central Circus from December 28-31, as part of activities to celebrate New Year 2014.
The artists from the Vietnam Circus Federation will offer children various attractive performances, including prestidigitations, acrobatics, juggling, balancing and animal acts, with visual humour from the clowns.
The performances are elaborately staged and include educational content to help children adopt good attitudes. All clothes, lighting and sound for the play have been well prepared by the Vietnam Circus Federation.
The programme is scheduled to be televised during the Lunar New Year (Tet) holiday.
48h Photo Project winners named
The '48h Photo Project – I love my city, my people' last week honored four winners Nguyen Ly (photo story), Tran Thi Thiem (single shot), Phung Anh Tuan (creative shot) and Cao Thien Kim (lumina shot) at Galaxy Cinema in District 1.
This was the final part of the photo contest 'I love my city, my people' held by Galaxy Publications and the French cultural centre L'Espace in Hanoi within the framework of the French Year in Vietnam and Vietnamese Year in France from 2013-2014.
The contest was open to talented photographers aged 15-35 who are currently residing in Vietnam.
The topic focused on anything that expresses your love of one particular place. Maybe it was where you were born, grew up or currently live by using emotional or passionate attachment for your love of the land.
"Through these photographs, we introduce this city with its unknown quantity and a desire to visit and explore," Nicolas Cornet, head of the organizing committee, said.
He added: "It's interesting showing portraits of people, the overall perspective, the dynamics at work, the details that make others understand the city we love. With the story encapsulating content from 7 to 12 pictures, we tell a little story, in the form of documents, in a more compact size than the content of a news story."
Korean conductor Park Ji Young graces Opera House
Park Ji Young will conduct a New Year Gala Concert organized by HCMC Ballet Symphony Orchestra and Opera (HBSO) at 8 p.m. on January 9 at HCMC Opera House.
The gala will feature popular pieces such as Violin Concerto No.4 in D Major, K218 by Mozart and Tchaikovsky's Introduction from opera "Eugene Onegin" and Symphony No.5 in E Minor, op.64.
The concert will also feature talented Vietnamese violinist Nguyen Huu Khoi Nam who graduated with distinction majoring in violin and chamber music at Conservatoire de Boulogne and the Conservatory of Paris and won first prize in the violin competition Luteceva FNAPEC (chamber music) in Paris with the quartet Impresa.
Korean conductor Young has recently been appointed as musical director of Ensemble Nouvelle Generation de Paris and resident conductor of Korean Chamber Orchestra as well as guest professor at the College of Art, Chonnam National University in South Korea. Young pursues an active career collaborating with global pre-eminent orchestras and soloists.
Young is also closely associated with many other orchestras in France.
He was born in Seoul and his extensive musical training included music analysis, harmony, orchestration, organ and conducting at Conservatoire National de Region de Boulogne in addition to conducting at Paris Conservatory.
Tickets are sold at HBSO ticket office at the Opera House, 7 Lam Son Square in District 1 for VND400,000, VND350,000 and VND200,000. Students pay only VND80,000.
Source: VNS/VNA/SGT/SGGP/Nhandan