Vietnamese artworks put up for int'l auction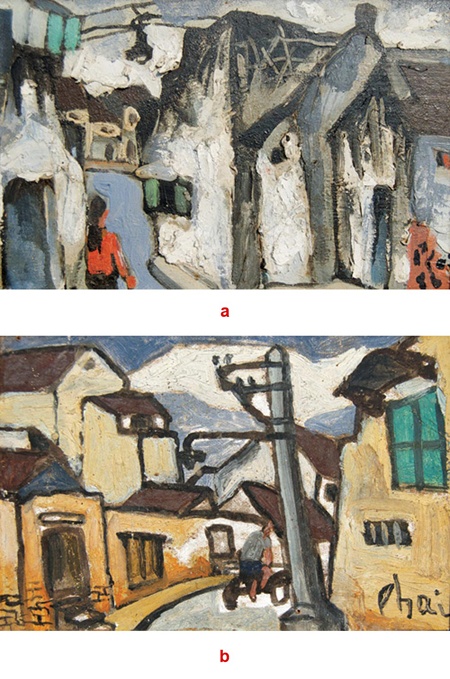 The auction, which will start at 3pm on January 18 at the Larasati Auctioneers in Grand Park Orchard, will feature paintings by Bui Xuan Phai, Do Quang Em, and Dang Xuan Hoa. The starting price for these works is US$1,200.
According to the organiser, six of the 96 artworks being offered at the upcoming auction are by Vietnamese artists.
Nguyen dynasty's woodblocks introduced to public
Valuable woodblocks used for rudimentary printing in the Nguyen dynasty (1802-1945) will be introduced to the public for the first time during the Da Lat Culture Tourism Week 2013 from December 27-31.
The woodblocks represent an important part of the country's feudal history. Under the Nguyen dynasty, they were used to print literary and historical documents. These original records of the time become priceless to the nation.
The collection boasts many rare woodblocks that record the history of the unification of great Vietnam, or Dai Nam Nhat Thong Chi, and the royal annals of great Vietnam, or Dai Nam Thuc Luc.
Nguyen Xuan Hung, Vice Director of the National Archive Centre No.4, said the valuable treasure also contains contents affirming Vietnam's sacred sovereignty over Hoang Sa and Truong Sa archipelagoes.
Apart from their historical value, the woodblocks are important in terms of their art and skill as they mark the development of the woodblock carving and printing profession in Vietnam.
Most of the wood blocks were made out of a plate of either thi tree wood which is yellow and soft, or nha dong tree, which is smooth and of an ivory colour. These kinds of wood are especially good in preserving the shape of the carvings.
They carry Chinese or ancient Vietnamese letters carved in reverse so when printed, they will appear correctly.
In 1960, more than 50,000 of the Nguyen dynasty blocks had been stored in the royal city of Hue before they were brought to the Central Highlands city of Da Lat.
In 2009, UNESCO recognised the Nguyen dynasty's wood blocks as a Memory of the World.
Major cities hold New Year galas
For New Year, many cities are organising activities, including countdown parties, music and drama performances, fireworks and sport contests.
Ha Noi will organise the New Year Countdown Party on New Year's Eve at the August Revolution Square in Hoan Kiem District. The countdown event was initially organised in 2010, attracting thousands of visitors.
From now until January 2, HCM city will stage art performances, folk games and sport contests and exhibitions. Fireworks will be held at the Sai Gon River Tunnel in District 2 and the Dam Sen Culture Park in District 11 on New Year's Eve.
The central city of Da Nang from December 20 to January 5 will hold a concert with guitarists from HCM City, Da Nang, Hue, Australia and Japan, as well as art performances, fashion shows and flower-decorated vehicles in Bien Dong Park. A countdown party in March 29 Square and street music programmes will also be organised.
In the UNESCO World Heritage Site city of Hoi An in the central province of Quang Nam, activities will begin on December 31 and end on January 1 at 1 am. Music and dance performances, costume street parties and a countdown event will be part of the festivities.
Hai Phong exhibition highlights French architectural imprints
Over 500 photos, mainly black-and-white, depicting the French architectural imprints on Hai Phong urban development are put on display in the northern port city, as part of activities to mark the 40 th anniversary of the Vietnam – France diplomatic ties.
The exhibits paint a picture of the city since 1874 with French-styled office buildings, banks, villas and cultural facilities like the municipal Opera House and port.
Co-hosted by the Vietnam- France Friendship Association and the Hai Phong Association of Architects, the event which was started on December 28 will run until January 5.
Japanese festival welcomes New Year 2014
A Japanese cultural festival to celebrate the New Year "Ake Ome! 2014" took place at the Giang Vo Exhibition Centre in Hanoi on December 29 .
The event is a highlight to wrap up the Vietnam-Japan Friendship Year 2013 to mark the 40th anniversary of the two countries' diplomatic ties.
"Ake Ome" is the shortened form of "Akemashite Omedetou", which means "Happy New Year."
The festival featured booths offering Japanese specialties, such as traditional Kadomatsu decorations and carp lanterns.
Visitors, especially young people, were very fond of Japanese traditional dance, Yosakoi, Cosplay performance and fashion show.
They also had chance to paint Daruman dolls' eyes for good fortune in the New Year and participate in typical activities to welcome the New Year in Japan.
The festival, which attracted about 4,000 visitors, acted as a bridge to promote the Vietnam-Japan friendship.-
Dak Nong beauty in the limelight
Over 130 photos and paintings by 40 artists in and outside the Central Highlands province of Dak Nong are being displayed in the locality, bringing its achievements over the last 10 years into the spotlight.
Themed "Legend of Highland M'nong", the exhibits at the event running from December 27 – January 3 depict the province on its path to socio-economic development with unique cultural traits, beautiful natural landscapes, social security and hospitable residents.
They are entries of a photo contest launched in the province since early year.
The provincial People's Committee granted first prize to photographer Phan Huu Sang. Second place was shared by artists Duy Thoan and Tran Trung, and painters Nguyen Thuy Linh and Do Phu Da.
The organising board also honoured six other runners-up and another five entrants with consolation prizes.
Flower exhibition highlights Uncle Ho's image
An image of President Ho Chi Minh made of fresh flowers was introduced during the fifth Flower and Ornament al Creatures Exhibition that opened on December 27 in Da Lat city, the Central Highlands province of Lam Dong.
The image, four metres high and 5.2 metres wide, is the first of its kind exhibited at the event, which is part of the five-day 2013 Da Lat Culture and Tourism Week.
The exhibition covers an area of about 10 hectares, and is displaying 28,862 works of nearly 100 teams, individuals and businesses nationwide.
The flower farming trade of Da Lat city and some localities across the nation was introduced at the event, which is also considered a good chance for businesses in the field to seek partners and investment opportunities.
The exhibition will run until January 2.
Sapporo sponsors New Year music festival
Japanese company Sapporo will sponsor a spectacular music show in HCM City on New Year's Eve, expecting to attract more than 10,000 revellers.
Escape Party will gather 12 local and foreign DJs including globally known Random Crash.
The VIP area, limited to 500 people, will be located near the stage.
The performance will be embellished by a spectacular 3D light show with modern sound systems hoping to offer audiences a memorable night.
HCM City hosted Summer Escape Party 2013 in June featuring leading DJs Kim Lee and Katrina Nova.
100 publications win 2013 Vietnam Book Awards
The 2013 Vietnam Book Awards, run by the Vietnam Publishers Association, have honoured 100 of the year's outstanding publications.
Party Central Committee and Politburo Member Dinh The Huynh attended the December 28 presentation ceremony in Hanoi.
Vietnam Publishers Association Chairman Do Quy Doan said the books recognised span political theory, sociology and the humanities, and technological sciences.
A history of the special relationship between Vietnam and Laos from 1930 to 2007 won a special award.
Former Government Border Committee Head Dr Tran Cong Truc's "Traces of Vietnam in the East Sea", a work written with Dr Nguyen Nha, won the silver prize.
The book documents the substantial evidence indicating early traces of a Vietnamese presence in the East Sea, enlightening the reading public and affirming Vietnam's valid defence of its maritime sovereignty.
Landmark folklore projects honoured
The Vietnam Folklore Arts Association (VFAA) has presented prizes to 64 notable research projects exploring folk art and culture in a ceremony on December 28.
Phan Ngoc Khue's "Hang Trong Folk Painting" project received first prize.
VFAA President To Ngoc Thanh outlined the scope of the entered research, spanning philosophy, folklore theory, customs, performance, visual arts, architecture, and folklore knowledge.
Some of the other research projects recognised included an investigation into the Champak culture of Sakava and Dang Thi Oanh's analysis of water symbols in the folk literature of Thai people living in northwest Vietnam.
The organising board presented one overall first prize, 10 secondary prizes, 32 tertiary prizes, 18 consolation prizes, and three gifts.
The VFAA also presented eight artisans with official folk artisan certificates and insignia. The artisans are teachers of Muong ethnic minority music traditions and songs in the Soong Co, Then, and Xam styles.
Tay Nguyen-Da Lat National Tourism Year launched
President Truong Tan Sang emphasised Da Lat's 120-year history as a leading tourist destination when addressing the December 27 launch of the Da Lat Cultural and Tourism Week and the fifth Da Lat Flower Festival.
This year's ceremony also marks the 120th founding anniversary of Da Lat City and begins the Tay Nguyen-Da Lat National Tourism Year.
President Sang said the celebratory programmes will drive Da Lat City and the Central Highlands region towards capitalising on their tourism potential and securing rapid and sustainable development.
Da Lat is already famous for its flower festival. It has also won renown for its officially recognised tangible and intangible cultural heritage, such as the UNESCO-listed gongs, the rong houses, the elephant race festival, stone musical instruments, and epic poetry.
The President credited Da Lat Flower Festival with embodying the true colours of a hospitable and beautiful nation.
He hoped Da Lat and the Central Highlands region would be inspired to continue their traditions of solidarity, dynamism, and creativity, advancing the national processes of modernisation, industrialisation, and international integration.
President Sang presented Da Lat City with the Independence Order (third class).
Writer receives prize for covering LGBT issues
A one-page-long story on lesbians received first prize at a writing contest for short stories on lesbian, gay, bi-gender and transgender (LGBT) issues.
The story, titled Bi Mat Trong Can Buong (Secrets in the Room), written by Vu Thien Kieu from the southern province of Kien Giang, was among more than 350 entries by Vietnamese people around the world, delivered one month after the contest was launched.
Organised by the Centre for Studies and Applied Sciences in Gender-Family-Women and Adolescents, the contest is part of a project to enhance the rights of lesbians and encourage men to act against domestic violence in Viet Nam.
The jury comprised noted poet Hoang Nhuan Cam, popular writers Le Minh Khue and Trang Ha, and critics Van Gia and Chu Van Son.
"Although the topic of LGBT is not quite new, there are only a few pieces on the subject," said poet Cam. "It is necessary to create a forum of exchange between writers, artists and the LGBT community, through which LGBT people and composers can understand one another."
More than 10 pieces were selected for prizes, all of which express a desire to love, be respected and benefit from equality with others in society, he stated.
Kieu's story was unanimously selected by the jury, he noted. The writer also has another story that was selected for the finalists' entries.
"I think the contest has created a foundation for literature pieces on humanity, belief, and life values featuring people who always strive to live up to what is good, true and beautiful," said Kieu.
Viet Nam – Lao book claims top prize
The grand prize for the Viet Nam Best Book Awards 2013 has been awarded to a history of the special relationship between Viet Nam and Laos.
The book, Lich Su Quan He Dac Biet Viet Nam – Lao; Lao – Viet Nam, published by the National Political Publishing House, also received the Golden Award for the most beautifully designed book of the year at the award ceremony on Saturday in Ha Noi.
Of 350 entries from publishing houses nationwide, the jury singled out 96 books to receive best and most beautiful book awards.
Besides the grand prize, the four golden awards in the Best Book category went to the two-volume History of Thang Long – Ha Noi (Ha Noi Publishing House), Viet Nam – Economic Zones and Key Economic Zones (Education Publishing House), Handbook of Hydro-Project Engineering (Transportation and Traffic Publishing House), and Vietnamese – English Medical Dictionary (Medical Publishing House). Two Cats Sitting by the Window (Tre Publishing House), by well-known writer Nguyen Nhat Anh, is among the five works that received a golden award as a beautiful book.
These were the 9th awards presented by the Viet Nam Publishers Association.
VNA/VNS/VOV