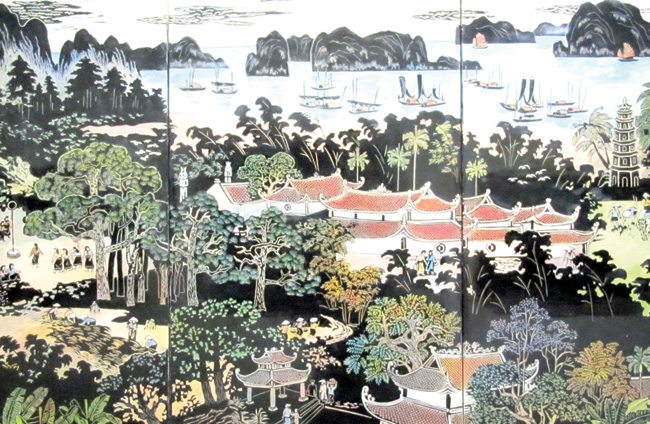 HCM CITY (VNS) — Paintings on traditional materials like lacquer, silk, and do paper by eight Ha Noi artists are on display at the HCM City Fine Arts Museum.
Gio Song Hong (Wind from the Red River), which opened yesterday, showcases 90 works featuring landscapes, lifestyles, and beautiful women from the Hong (Red) River Delta.
Le Thi Hoan, the oldest of the eight artists, said the exhibition sought to bring images of peaceful and idyllic villages and beautiful ethnic women from the north.
Her own preferred materials are lacquer and water colour on silk and bright colours like red, blue, and green, especially to depict women in the northern mountains – like in Nguoi Dan Ba va Ruong Bac Thang (Woman in Terraced Rice Field) and Sau Buoi Le Nha Tho (After a Church Meeting).
The 68-year-old has brought eight lacquers and four watercolour on silk works.
A graduate of the Viet Nam Fine Arts University, she has held several solo and group exhibitions in Viet Nam and South Korea.
Hoang Nam Thai has on display 16 lacquer engraving and oil on canvas paintings.
His works feature landscapes and life in villages, especially in the mountainous province of Ha Giang.
His works include Xuong Cho Ngay Xuan (Going to the Market in Spring), and Mien Duyen Hai (Coastal Region).
Thai, 59, a graduate of the Viet Nam Fine Arts University, has also held several exhibitions in Viet Nam and countries like Japan and France.
His paintings are displayed in many museums in Viet Nam and the US, and he has won many national and international prizes.
The exhibition also features works by Pham Thi Nghia, Ngo Thanh Nhan, Pham Quang Viet, Nguyen Van Tuan, Phi Manh Tan, and Nguyen Xuan Luc.
Most of them are graduates of the Ha Noi University of Industrial Fine Arts.
The exhibition at 97A Pho Duc Chinh Street, District 1, will remain open until January 5. — VNS