VietNamNet Bridge – Three out of eight statues in Bac Giang were made by Anh Vu. Visiting his home — and speaking in person — offers a few clues into what inspires the prolific sculptor.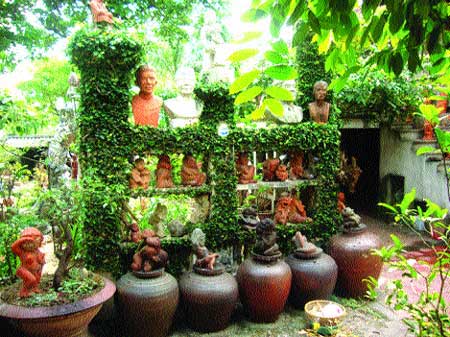 I visited sculptor Anh Vu on a warm autumn day. His ancient house is surrounded by a garden with fruit trees and flowers, as well as statues of Buddha and many famous persons. Vu's statues are so lively that I first thought I had walked straight into a legend.
Born in 1943 in Trang Liet Commune, Tu Son District, Bac Ninh Province, the sculptor has devoted his life to sculpting famous historical figures. He's also based many statues on characters from literature, such as the Dumb Luck of famous writer Vu Trong Phung and Chi Pheo, Thi No and Lao Hac from the works of writer Nam Cao.
Just as these famous writers are Viet Nam's pride, with many of their works included in textbooks for students nationwide, Bac Giang Province is very proud of Vu because he made three out of eight statues in the province. His statue of Hoang Hoa Tham (1858-1913), the peasant leader who led the Yen The Insurrection and held out against French domination in northern Viet Nam for 25 years, sits at the Yen The site.
His Ngo Si Lien Monument at Ngo Si Lien Secondary School depicts a historian best known for being the principal compiler of the Dai Viet Su Ky Toan Thu, a comprehensive chronicle of the history of Viet Nam and the oldest official historical record of a Vietnamese dynasty still in existence. Lien is appreciated not only for the precision of his records but also for the innovative method of compilation: he was the first Vietnamese writer who extracted information for a historical book from collections of myths and legends such as Linh Nam Chich Quai and Viet Dien U Linh Tap. A statue of Nguyen Khac Nhu, a strong-willed anti-French fighter, is located in the centre of Bac Giang City.
When the province launched a contest to create a statue of Hoang Hoa Tham in 1984, Vu was not a front-runner.
"After my statue was chosen, Tham's daughter Hoang Thi The returned home from abroad and visited me," the sculptor said proudly.
Prominent in his garden is a statue of Pham Thi Nga, the mother of King Ly Thai To, the founder of the Ly dynasty in 1009.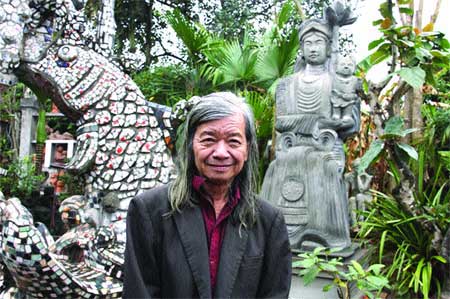 Nguyen The Chinh, director of the Bac Giang Department of Culture, Sports and Tourism, said he liked the statue very much because it illustrated the typical woman of Kinh Bac (what is today Bac Ninh). These include facial structure and hairstyle, as well as the kerchief tied in a triangle around her forehead.
"What I like most is the King's mother's left hand holding Ly Cong Uan (the birth name of the King), who holds a 9-petal lotus symbolising the 9 Ly kings," the director said.
Vu's wife, Nguyen Thi Phung, said the couple called the place their Buddha Garden.
"My husband has a lot of passion for these statues. He invests all his time in making statues. Sometimes he just sits still thinking about making statues," said Phung, adding that she sometimes jokes that he forgets her presence.
"He says the statues are his while the grass, flowers and leaves are mine. We have been living happily together at our old house with these statues for more than half a century," Phung said.
Vu also enjoys writing poems. His poem collection Vet Chan Chim (Birds' Track) won the Song Thuong Literature prize and he has won many other prestigious prizes for writing poems to protect the forests, including epic poem Long Chao Khac (Different Valley).
Vu said he preferred to communicate by means of poems and statues than speech. His way of talking is very simple, but in making art, he never allows himself to be careless.
"I have strict requirements before composing a piece," he said.
Vu's friend Nguyen Thanh Kim, a culture activist, said many of his works seemed to have a soul, particularly statues of writers and musicians.
"I don't like uninspired or mediocre work — or constraints," the sculptor told me. "Making art requires freedom."
Source: VNS