Vietnam's largest gold bandana on display in Hue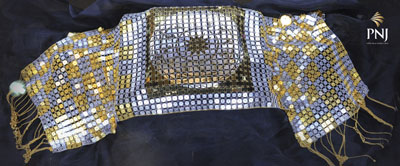 The gold bandana designed like the bandana worn by women in South Vietnam, is 130cm in length and 27cm in width. It was crafted in 3,000 parts with 2,880 gold pieces.
The surface of each gold piece is carved with beautiful patterns such as shapes of birds and drums.
Earlier, the gold bandana was recognized as Vietnam's largest gold bandana by Vietnam Records Book Center.
Photo exhibition on Vietnamese women opens in Paris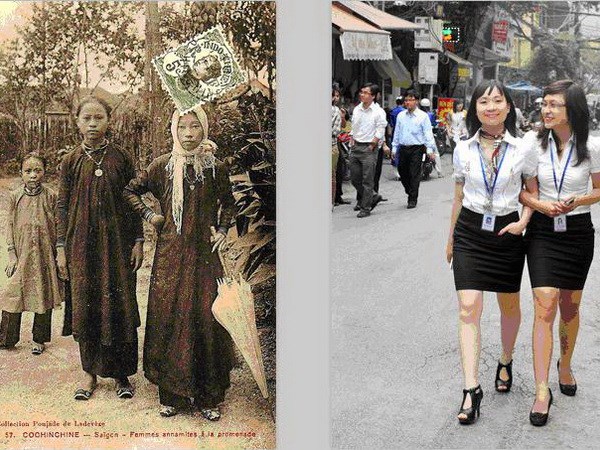 The photo collections were taken by two French friends named Philippe Chaplain, President of France's National Heritage Federation and photographer Daniel Frydman, who spent many years and have great sentiments twowards Vietnam.
Around 50 photos and postcards were taken in the early 20th century recording evocative images of Vietnamese women in two distinct historical eras.
In separate speeches two French authors spoke of their travels around Vietnam, describing the country as a beautiful land with hospitable people, inspiring them to return several times to organise photo exhibitions and publish books on Vietnam.
Collector Philippe Chaplain said that the old photographs are hugely significant in reflecting the fascinating history and traditions of Vietnam. He also expressed his wish to present the photos to Vietnam and deepen friendship links between the two nations through historical photos.
Int'l Art Photography Exhibition opens in Hanoi
An awards ceremony and an opening ceremony of the International Art Photography Exhibition were held at Van Mieu-Quoc Tu Giam in Hanoi on morning of December 1.
In three months since the launch of the contest, the organizers received 15,360 beautiful photos from 1,427 photographers from 51 countries and territories.
Participating entry photos had to cover four main topics, namely, nature, portrait, tourist destination and freedom.
The organizers selected 663 of the best photos and eight album photos to award prizes. 25 Vietnamese photographers won gold medals and many consolation prizes, including photographer Dang Van No for 'Co Tu Kid' photo and photographer Ngo Thanh Binh for 'Song in the Rain' photo. They were awarded two gold medals by the Federation of International Art Photography.
The contest was sponsored by the Federation of International Art Photography (FIAP) and organized by the Vietnam Association of Photographic Artists (VAPA).
This contest was one of six largest international art photography contests ever to be held in Vietnam.
Meritorious artist Doan Ba to stage 'Specter of Man's Family'
Meritorious artist Doan Ba will introduce to audiences a drama titled 'Specter of Man's Family' at 179 Binh Thoi Street in District 11 in Ho Chi Minh City at 8.30pm on December 1.
The drama will have participation of many famous artists such as meritorious artists Thanh Dien, Ha Tri Quang, Thuy Duong, Huu Thach, Trieu An, Cam Ha and singer Khang Le.
'Specter of Man's Family' tells the story of a leading heroine called Duyen, who was cheated into marrying a 90-year old man in China, called Man. Duyen suffered great miseries in China and seeks ways to escape from Man's home and return to her hometown.
In the play, the director will not only create excellent negative characters but also use music and art circus to create an effective and attractive performance.
Vietnam releases DVD 'Homeland Sea Island'
A DVD named 'Homeland Sea Island' has just been released to the public after seven months of shooting in the Spratly Islands and Ba Ria- Vung Tau Province.
Filming of the DVD involved the participation of nearly 400 artists and 3,000 staff, naval soldiers, and singers. In all it took the enthusiastic participation of 3,400 people to making of the DVD, which aims to express love for country and soldiers on the Islands.
The organizers have released 7,000 DVD, including 1,000 DVD for soldiers on the Islands, and 6,000 DVD to sell for funding the campaign 'Contributing Stones to build Spratly Islands'.
'Vietnam's Brainiest Kid 2013' attracts 21,000 students
More than 21,000 students have registered to participate in the Vietnamese version of the British television quiz show, Britain's Brainiest Kid, according to the organizer, Vietnam Television.
Thousands of contestants from secondary schools throughout the country took part in the preliminary rounds which ran for three months.
The jury whittled thousands of contestants down to 480 for the final rounds which will be aired on VTV6 channel at 9pm on December 4 and repeat on VTV3 at 4pm on following Sunday.
The Consulting Advisory Board includes professors Van Nhu Cuong, Ngo Bao Chau and Ngo Duc Thinh.
The organizer hopes that Vietnam's Brainiest Kid 2013 will prove to be an exciting playing field for children.
Britain's Brainiest Kid created by Sony Pictures Television focuses on seven types of intelligence according to world standards, namely, mathematical logic, language, space, music, the body, capacity and capability to interact. The show has been presented in 16 countries.
Vietnam Cultural Days in Australia
The Vietnam Consulate General in Perth in coordination with Australian partners has held a series of cultural activities to mark the 40th anniversary of diplomatic ties between Vietnam and Australia.
The event started with a Thang Long Water Puppet show in Canning City.
Mayor Linton Reynolds said his local people had a great chance to enjoy Vietnam's special show.
A Vietnam-Australia Music Night was held on November 29 with the participation of the Thang Long Art Troupe and Mesa Ban from West Australia.
Catherin Driver, a representative from the Ministry of Culture in West Australia, said the night provided an opportunity for Australian people to learn more about the unique features of Vietnam's traditional arts and Australia's folklore.
Musician David Morgan, Director of Spinifex Company who used to live and work in Vung Tau, said since arriving in Vietnam he has composed English songs in praise of the beautiful land and people of the country.
His first record "Hello Vietnam" consists of four songs. He plans to introduce more music and cultural works in his "Hello Vietnam" series.
The Thang Long artists joined Australian people and Vietnamese residents in the Swan River festival.
Consul General Le Viet Duyen spoke highly of the development of Vietnam-Australia relations, especially in economics, politics, education, science and technology, security and defence over the past 40 years.
Regulation stagnates state-funded film productions
Cinema film producers have not been able to produce any new films in recent years, as they have yet to get state funding due to the lack of a circular on cinema film auction.
Nguyen Thi Hong Ngat, former Deputy Director of the Cinema Department said the government has set aside VND93 billion (USD4.4 million) for film production including VND48 billion (USD2.27 million) for 2012 and VND45 billion (USD2.13 million) for 2013.
"To date, none of the funding has been disbursed even though three films about history, political leaders and contemporary times were approved as of late 2011 and the Ministry of Finance has allotted funding for each film since August," Ngat said.
She blamed the situation on the lack of a circular to guide the auctioning process using state funding. Now several film producers have become idle as they do not have their own funding sources.
Nguyen Thi Minh, Deputy Minister of Finance, said, "We've just asked for an investigation of the issue and disbursement will be made if all phases of the process run smoothly."
Nguyen Thanh Van, Deputy Director of Vietnam Feature Film Studio, attributed the problems, not to a lack of funding, but to the complicated procedures.
Some said that films which use state funds that are often put on the bottom of the list for receiving money are given to those productions claiming an urgent schedule.
Recently, Nguyen Thi Minh said that the sluggish disbursement has resulted from a lack of related guiding legal documents under the Law on Cinema, which requires the Ministry of Culture, Sports and Tourism to negotiate with film studios but the ministry is not really familiar with such procedures.
Meanwhile, Ngat suggested an amendment to current law so as to simplify procedures and foster film production.
Pianist returns to his mother's hometown for concert
Vietnam's international concert pianist, Dang Thai Son, will perform, for the first time, at Piano International 2013, the city's music festival, on December 2 at the HCM City's Concert Hall.
Upon returning to the city, formerly called Sai Gon, where his mother was born into an upper class family and studied piano, he said, "This feels like a fish returning to water," referring to Debussy's piece, Gold Fish, which he will be playing.
"My mother taught me my first musical notes when I was a toddler, so going to her hometown also feels like going home," he said.
During recent press conference held at the city's Music Conservatory, director Van Minh Huong said, "After the first festival, held in 2011, the city's officials wanted to make this festival the city's cultural highlight, and suggested that we needed to make this international by inviting People's Artist Dang Thai Son. Due to his being busy performing, teaching and sitting on international piano juries around the world, it took us two years to bring him here."
HCM City has increasingly become international, with music centers mushrooming, most children of upper middle class learning music, as well as instrument shops on the city's downtown streets. The future of music training looks good, according to Huong.
The concert will feature compositions by French composer Debussy, as well as work by two of Vietnam's most prominent contemporary composers, Do Hong Quan and Dang Huu Phuc.
"At the end of the concert, I will play a piano duo with Luu Hong Quang, a budding pianist of the new generation," he added.
The pianist will have another concert in the capital city of Hanoi at the Opera House on December 4.
Int'l Artistic Photo Contest celebrates fine photographic talent
Hanoi hosted an awards ceremony, on December 1, to honour 48 outstanding images chosen by the seventh International Artistic Photo Competition.
The competition received 15,360 entries from 1,430 contestants from 51 countries and territories.
In his speech, Deputy Minister of Culture, Sports and Tourism, Vuong Duy Bien recognized the significance of the event in reflecting Vietnam's contributions and integration into the international photographic art scene.
It gave managers and artists a good chance to share their photographic experience and expertise and introduce pictures portraying the image of Vietnamese people and landscapes to both local and international audiences.
The judging panel selected eight sets of prizes including 48 outstanding photos in different categories.
The Vietnam Association of Photographic Artists (VAPA) won four gold, four silver, and four bronze along with 12 consolation prizes.
The International Federation of Photographic Art (FIAP) achieved four gold, four silver, four bronze and 12 highly commended certificates.
Half of the 48 outstanding photos selected were entered by Vietnamese photographers, three of which were awarded gold medals including Em be Co Tu (The Co Tu kid) by Dang Van No, Dong Ky le hoi que toi (Dong Ky-My hometown's festival) by Nguyen A and Bat Ca duoi mua (Catching fishes under the rain) by Ngo Thanh Binh.
The Temple of Literature, Hanoi, will display 250 of the 663 artworks and the photo collection will in due course be exhibited at various provinces and cities nationwide.
Vietnam attends winter charity fair 2013 in Moscow
The International Women's club of Moscow organised a charity fair in the Russian capital, on November 30, to raise money for the elderly, vulnerable and underprivileged.
The event included a wide variety of stalls selling traditional handicrafts, clothes, global brand names and foodstuffs from over 63 countries worldwide.
A Vietnamese pavilion selling authentic regional dishes, spring rolls and sticky rice attracted swathes of visitors, interested in Vietnam's rich culture and unique culinary delights.
Local women from the Vietnamese embassy delivered an emotive performance of "Vietnam-My homeland" receiving huge applause from audiences.
Performing art groups from Indonesia, Spain, Russia and the Ukraine drew large crowds with their fantastic and colourful shows.
All the money raised will be donated to the club's charity fund. Last year the fair made over US$200 000 and was able to support twenty charity projects.
The fair has also contributed to the introduction and acceptance of cultural diversity between nations, whilst at the same helping and supporting the poor.
Graphic design exhibition opens in Hanoi
The graphic design exhibition "Printed Letters and Words" opened at the Hanoi Goethe Institute on November 29.
Richard Moore Associates cooperated with the FPT (Future Philosophy and Technology) Arena and the Goethe Institute on organising the exhibition.
"Printed Letters and Words" showcases 2,000 typographical designs from winners of the 2013 New York Type Directors Club (TDC) Competition.
The opening welcomed audiences keenly interested in type and the written word, as well as a variety of professionals and students in graphic design, advertising, marketing, communications, multimedia, publishing, and education.
FPT Arena Student Nguyen Thien Thu Ha said the event gave her a good chance to familiarize herself with emerging international graphic design trends and innovations.
The exhibited advertising designers preference letters and words over an abundance of images."
The exhibition will also encompass a December 4 award ceremony for a student graphic design contest.
"Printed Letters and Words" runs until December 7.
"One Day with Doraemon" exhibition opens in Hanoi
The "One Day with Doraemon" painting exhibition, organised by Kim Dong Publishing House, launched in Hanoi on November 30.
The exhibition's 80 displayed paintings were selected from October's "One Day with Doraemon" contest open to Vietnamese school students aged 6–12. Doraemon's robotic cat protagonist is imagined visiting Ho Chi Minh Mausoleum, harvesting, and participating in carnival festivals.
Doraemon Education Fund Director Le Phuong Lien said the character is immensely popular with Vietnamese children because of its enrapturing blend of "imagination and reality".
Doraemon is a Japanese manga series created by Fujiko F Fujio. Fujiko Fujio contributed VND1 billion to the books' first Vietnamese publishing and established the "Doraemon Education Fund" to support Vietnamese children.
The series tells the story of the titular character, an intelligent robotic cat who travels back in time from the 22nd century to aid a young boy named Nobita Nobi.
Most Doraemon episodes are comedies incorporating lessons on honesty, perseverance, courage, family, and respect for one's elders.
The robotic cat has become a Japanese cultural ambassador. Doraemon was even recently designated an official Japanese citizen.
Archaeological institute celebrates successes
The Institute of Archaeology under the Vietnam Academy of Science and Technology has contributed remarkably to the research of national history, sovereignty and traditional cultural values.
Most worthy of note is the institute's trace of Vietnamese people's ancestry, said the institute's Director Tong Trung Tin at a ceremony to mark its 45 th founding anniversary in Hanoi on November 29.
According to Tin, the institute has proven the existence of Hung Kings, who had been believed as legendry founders of Vietnam, thus helping to shed light on an unknown period of time in the country's history.
Together with the country's archeological sector in general, the institute has outlined a vivid picture of Vietnam in its early days of national construction and protection, he added.
Acknowledging the important role archaeology plays in studying national history and protecting the country's sovereignty, the institute has conducted research in Truong Sa (Spratly) archipelago, the Central Highlands and the southern region.
In Truong Sa, they discovered traces of the continuous presence of Vietnamese people between the 10th century and the 20 th century, contributing to proving the country's sovereignty over the archipelago at an early date.
The institute has also contributed to preserving national heritage through discovery, research and assessment of historical relics, Tin noted, adding that it has compiled over 670 dossiers that provide important data for the preservation and upgrading of heritage.
Thanks to those efforts, many Vietnamese heritage sites have been recognised by UNESCO, including the Thang Long royal citadel and the Ho citadel.
Tin pointed to challenges and difficulties faced by the institute, such as poor research facilities and heritage sites on the brink of vanishing.
The institute plans to prioritise coordination with localities to conduct fundamental research and underwater archaeological activities in service of the national strategy on research and exploitation of the marine resources, he said.
UN Cultural Rights Rapporteur visits Vietnam
Farida Shaheed, the United Nations Special Rapporteur on Cultural Rights, has concluded a 12-day Vietnam visit to investigate and learn more about the state of cultural rights protections in the country.
During her November 18–29 stay, Shaheed consulted representatives from the Party, the National Assembly, Government agencies, select localities, and social and cultural organisations and associations. She also visited schools and toured a number of sites of cultural and historical significance.
Shaheed was struck by the cultural diversity of Vietnam's regions and communities, and praised the country's socio-economic progress, its efforts to reduce poverty in rural and remote areas, and its commitment to fulfilling millennium development goals.
She noted Vietnam's achievements in defending the cultural rights of all its citizens, ensuring individuals and communities have a voice in managing tangible and intangible cultural heritage through cultural tourism development, ethnic minority language education policy, and history curricula.
Shaheed highlighted Vietnamese citizens' cultural rights could be threatened by reckless tourism and development projects altering or restricting communal cultural life. She offered a number of recommendations for preserving traditional culture and promoting local people's sense of agency in cultural activities.
Pupils love traffic-safety play
The short plays of Hong Van Drama Troupe that feature traffic safety have had a rousing reception at schools in HCM City.
The humorous play, performed before 1,700 students at Tran Hung Dao Primary School in District 1 recently, was about eight-year-old Tam's parents, who disobey traffic laws.
Tam's father tells the audience that he often speeds when he drives his motorbike, and he runs red lights whenever he believes there are no police officers in the vicinity.
For his wife's birthday, he gives her a motorbike with a 110 cubic centimetre engine.
Tam's mother doesn't know how to operate a motorbike and doesn't have a driving licence. When she decides to finally drive one day, she suffers serious injuries after colliding with another motorbike.
Throughout the performance the young audience laughed and shouting warnings to the characters such as "Be careful, you are running a red light, " or "You will hit another vehicle".
The enthusiasm of the audience results in a spirited question and answer session between the cast and the spectators.
Each show lasts about 60 minutes with a short play, a game show, and an interaction with an audience and a quiz about traffic laws.
"Traffic safety is a hot issue in our city," said stage manager Le Quoc Nam. "It's not easy to perform 'message' plays for children."
"The plays need a humorous style and must be easy to understand," Nam said.
Performing in the play, which is part of a programme called Ket Noi Cong Dong (Community Connection), are many popular artists of Hong Van Troupe, including Mai Phuong, Thanh Van, Minh Nhi and Hoa Hiep.
Organisers said that young people would respond more to popular actors on television and stage.
"We welcome the Community Connection programme," said Bui Duy Phuong, the headmaster of Tran Hung Dao Primary School. "Traffic police have many times given talks on traffic laws to students at our school. Students will understand the laws easier with short and humorous plays."
Before Tran Hung Dao School, Hong Van Drama Troupe performed at Viet-My School in Binh Thanh District, Marie Curie Secondary High School and Le Quy Don Secondary High School in District 3.
The Connection Prog-ramme will bring short plays to 30 primary and high schools in the city this year.
"I am going to make new plays about environmental protection, community health and problems related to social culture and behaviour," said Hong Van, manager of the Hong Van Drama Troupe.
"These plays will help young people become more familiar with a wide range of social issues," Van said.
A few years ago, Van's troupe staged at several schools dramas with scripts based on Viet Nam's well-known literary works in the early 20th century. However, the programme ceased after a short period of time due to a funding shortage.
The Community Connection Programme receives assistance from the city's Culture, Sports and Tourism Department, the Education and Training Department, HCM City Television and a number of businesses in the city.
Calendar makers may race ahead in Year of Horse
With preparations beginning in June, calendar producers are hoping their designs for 2014 (the Year of the Horse) will be popular this year, as the economy remains stagnant.
According to Manh Ha, a calendar producer in Ha Noi, most calendars feature pictures of well-known local landscapes, traditional architecture and paintings, people and daily life, but young designers have made a few changes.
"We created a collection of 12 designs of calendars for the New Year season that focus on children playing traditional games in brightly coloured clothes. Calendars decorated with poems by the nation's well-known poets, including Nguyen Du and Ho Xuan Huong, are also included," he said.
Ha's company produced 3.5 million of seven- and five-sheet wall calendars and loose-leaf calendars, mostly for Ha Noi, HCM City and southern provinces.
Ha explained that, just as in previous years, the calendar market is making many publishers nervous, since no one can be sure about customers' tastes until the last minute.
"Many calendar makers just print a few hundred calendars to start with. If these sell well, they undertake larger print runs," he added.
The price of a seven-sheet wall calendar currently ranges from VND21,000 (US$1) to VND60,000 ($3), while a single-sheet calendar is about VND10,000.
The price of loose-leaf calendars range between VND40,000 ($2) and VND300,000 ($15), depending on design, size and quality.
Calendars from special collections created by prestigious artists are more expensive, costing an estimated VND300,000 to VND700,000 ($35).
According to a calendar vendor in HCM City's Nguyen Thi Minh Khai Street, unlicensed businesses are taking advantage of an unregulated market. Illegally made calendars are being sent to rural areas.
About 10 million loose-leaf calendars published by State-owned companies will be sold in bookstores across the country this season, according to the HCM City Publishing Department.
Winners of artistic photo contest announced
Among thousands of photos competing at the seventh International Artistic Photo Contest 2013, 48 received awards during a ceremony held in Ha Noi yesterday.
The contest was organised by the Viet Nam Artistic Photographers' Association (VAPA).
Speaking at the ceremony at the Temple of Literature, the vice minister of Culture, Sports and Tourism said the biennial contest has confirmed the prestigious position of Vietnamese photography throughout the world.
"The photos have vividly reflected the life, culture, and customs of different countries, helping to promote the image of each country and its people, thus strengthening the relationship and understanding between the countries," he said.
Launched in late May with the sponsorship of the International Federation of Artistic Photography (FIAP), the contest attracted more than 1,400 professional photographers from 42 countries and territories, who submitted 15,360 photos to vie in four categories, including Portrait, Tourism, Nature and Freestyle.
Both the VAPA and FIAP have issued eight gold, eight silver, eight bronze, and 24 encouragement prizes.
Along with the award-wining photos, the contest's organisation board also selected 250 photos to display at an ongoing exhibition at the Temple of Literature.
After the Ha Noi display, the exhibition will travel to other cities across the country.
Artisan shows great passion for folk songs
Artisan Luong Van Nghiep from Mon Son commune, Con Cuong district in the central province of Nghe An is well-known in the region for his knowledge and enthusiasm for Thai ethnic people's folk songs.
Nghiep has not been educated at any professional arts college, but he owns warm and emotive voice along with a strong passion for singing since his early childhood.
He and other local people regularly practise singing and playing music in preparation for festivals or contests held in the locality. This is also in joint efforts to keep the folk songs alive.
The man thought that besides being able to perform the songs emotively, the artist should also be a good composer who can create lyrics reflecting various aspects of local life.
He has spent a large amount of his time seeking, collecting and preserving carefully such musical instruments as pan-pipes, flutes, and two-string violins.
As an expert in the field, Nghiep is regularly invited to stage programmes and arts performances at the district's festivals such as the Mon Son-Luc Da festival, which is held annually in April.
In 2010, he set up a folk song club at Cang village with the participation of 16 members. Two similar clubs were established later in Xieng and Tan Son villages.
Members of the three clubs can learn from and share their experiences with each other through a number of contests in the field.
Nghiep said he hopes youngsters will show more interest in Thai ethnic people's folk songs in order to widely popularise this traditional music genre among domestic and foreign visitors whenever they visit Mon Son commune.
Experts reveal outcomes of citadel excavation
The Vietnam Archaeology Centre under the Southern Institute of Social Sciences and the historical relic management board of the central province of Binh Dinh have announced the results of an excavation at the province's Hoang De (Emperor) Citadel.
From July to September this year, the excavation was conducted over an area of 500 square metres, mostly in the east end of the citadel, where many works in a project to build a temple for Emperor Thai Duc (reigning from 1778 to 1788) will be built.
The emperor, real name Nguyen Nhac, and his brothers were the founders of the Tay Son dynasty (1778 – 1802). The emperor was the one who ordered the building of the Hoang De Citadel.
Excavators found a number of cultural vestiges in the dig. The bottom layer contains pieces of pottery from the Champa civilisation (192 – 1832). It is topped by pieces from the Tay Son and Nguyen dynasties (1802 – 1945), such as tiles and household pottery.
Some of the finds were made in Chu Dau, a village well-known for making pottery in the northern province of Hai Duong, others were from China.
Some of the imported pottery is of high quality, following the styles of China's Ming dynasty (1368 – 1644). Others are believed to be produced in the south of China.
However, only a few traces from the Tay Son and Nguyen dynasties remain since the site may be located near the former Forbidden City, which witnessed an array of historical events between the two dynasties, thus causing the loss of many vestiges, experts said.
A rectangular architectural work made from the same materials used to build a semicircle pond in the Forbidden City was also unearthed, and is believed to date back to the Tay Son dynasty.
Based on the results, archaeologists proposed future excavations to be conducted at areas with concentrations of cultural vestiges from the Champa civilisation.
They also suggested a space for displaying discovered antiquities at the new temple to honour and popularise the site's cultural and historical values.-
TV series spotlights brief life of young revolutionary
The short life of Viet Nam's young heroic martyr, Nong Van Den alias Kim Dong, is alive again through a new TV series produced by private film companies in HCM City.
The Minh Film and Hanh Tinh Xanh companies invested a great deal of money to portray Kim Dong, one of the country's youngest heroes, in a big drama series.
The 20-part series, Anh Hung Lang Na Ma (The Hero of Na Ma Village) focuses on Dong's brave and clever activities as a member of the Ho Chi Minh Young Pioneer Organisation, which was founded by the Communist Party of Viet Nam and President Ho Chi Minh in 1941.
Dong was born in a poor family from the Nung ethnic minority group of Na Ma Village in Cao Bang Province.
He was the organisation's first leader when he was 12.
His job was carrying messages and coded letters, and protecting revolutionaries who work in the Viet Bac (Northernmost Viet Nam Revolutionary Base) during the French war.
He and his staff of four members face challenges and dangerous enemies, but finally complete their mission. He died on duty when he was 14.
"Kim Dong is a popular icon in Viet Nam's history and culture. Making a film about the hero has been one of my career's biggest challenges and my staff and I tried our best to make the film as lively as possible," said Nguyen Duy Vo Ngoc, the film's director.
Ngoc spent days working with scriptwriter Song Minh to perfect the film's script. He has collected and researched documents and books on Kim Dong, including stories told by Na Ma's patriarchs.
"Kim Dong is not only a young hero in the hearts of the ethnic minority people but also a literary icon," he said. "Many songs and poems featured the hero as a son of Tay Bac region who shows his love for the country and its people, and fights for peace through poetic words."
Ngoc and his actors travelled to the Tay Bac region and asked the village patriarchs of Nung ethnic minority group to improve their knowledge of the hero.
"My biggest challenge is how to portray the spirit of Kim Dong," said Ngoc, who worked hard on the casting of leading roles.
He said he chose schoolboy Duc Huy for playing Kim Dong because "both of his appearance and acting skills."
The film's first episode was broadcast on HTV7 channel last Friday, leaving a very strong impression on viewers.
It airs every night, except Sunday, at 9.30pm.
Famous artist in the spotlight at L'Espace
A talk on one of Vietnam's top painters in the 20th century, To Ngoc Van (1906-1954), who left over a strong imprint with works and artistic ideas of deep influence on the Vietnamese fine arts, will be held at L'Espace in Hanoi on December 6.
The event will feature an introduction to the painter's works by Professor Chu Hao, while Thai collector Tira Vanictheeranont will talk about how he came to collect hundreds of paintings and sketches by Van. Vanicthreeranont will also speak about a book on the noted painter's sketches that will be published soon.
Artist Phan Cam Thuong, who has already published a book on the painter's works called "To Ngoc Van – Tam guong phan chieu xa hoi Viet Nam 1906-1954" (To Ngoc Van – A mirror reflecting the Vietnamese society in 1906-1954), will speak about his research into his mentor's works.
Having a passion for the art of painting when he was still young, To Ngoc Van left the Buoi Secondary School early to study the art. He then entered the Indochina Fine Arts College to learn oil painting in the 1926-1931 period. His talent was soon recognised right on the first days in the college. Three of his works then "Anh mat troi" (Sunlight). "Bui chuoi ngoai nang" (Banana bush in the sunshine) and "Troi diu" (It's a mild sky) attracted public attention.
Dynamic and keen to learn, he was compelled by his love to art to read every book, magazine or newspaper article related to arts that he was able to get his hands on. Each picture, be it a folk print of Dong Ho or Hang Trong, a Japanese wood carving, a Chinese watercolour, an Ajanta fresco, a modern Western painting by Manet, Gaugin, Van Gogh or Matisse, filled the soul of the art-loving young man. He studied oil painiting but he also tried other mediums such as silk painting, wood carving and frescoes.
Graduating from the Indochinese Fine Arts College, To Ngoc Van was passionate about the beauty of the diverse spectrum of colours. His skills had been perfected, his later style was basically established. There was a keen sculptor in him who was very sensitive to full, round and graceful figures, especially to the beauty of the female form.
Not only a talented painter, To Ngoc Van was also an outstanding lecturer and a respectable teacher of the first generation of painters in the revolutionary fine arts. He used to give training in Phnom Penh (1935-1938) and later the Indochina Fine Art College (1939-1945).
In many places, from the Central Highlands to Viet Bac (Northern Vietnam), an apt and pleasant artist was seen at times painting a poster on a patch of wall to inspire the resistance; masking and decorating a folding stage; printing leaflets under a curtain of jungle leaves; running the Resistance Culture Group; or managing the reorganisation of the Fine Arts College (1949-1950).
He lived amid his compatriots, sharing every joy and sorrow with the ordinary people, with the combatants and with hard-working farmers, who brought him the inspiration to create new works of art such as "Ha Noi vung len" (Hanoi rose up), "Giac den giac di" (Enemies came and went), "Nu y ta" (Medical maid). These works signalled the initial changes taking place in him. His themes and characters began to change, getting more dynamic and lively, and focusing on depicting action.
To Ngoc Van was considered one of the first painters using oil paint in art works in Vietnam. His paintings such as "Bac Ho o Bac Bo Phu" (President Ho Chi Minh in Tonkin Palace), "Thuyen tren song Huong," (Boat on Perfume River), "Thieu nu ben hoa hue" (Young woman by tuberose) etc. and sketches describing the rural landscapes and the resistance war against the French show a special talent, a sensitive soul, an enthusiastic heart and a patriotism.
To Ngoc Van continuously received valuable prizes: Gold Medal at Colony Exhibition in 1931 with the oil painting "Buc thu" (The Letter), Certificate of Honorary Commendation at French painters' exhibition in 1932, Certificate of Commendation at Vietnam Fine Art Association's exhibition. In 1933, his silk painting "Gia Dinh Viet Nam" (Vietnamese Family) was chosen for displaying at the Paris Colony Museum and he was elected member of the French Painters' Association.
In addition, he won several honourable domestic prizes, such as the first prize at the National Fine Arts Exhibition held in Hanoi in 1954. Many of his works are displayed at the Vietnam Museum of Fine Arts, other overseas museums and private collections.
He sacrificed on June 17, 1954 in Da Khe, Dien Bien Phu battlefield when he was creating works. He was posthumously awarded the Ho Chi Minh Prize for the Literature and Art and the Independent Order, 1st class, in 1995. As a tribute to To Ngoc Van, streets in Hanoi and Ho Chi Minh City bare his name.
Southern economic hub to enjoy Winter Fair
A Winter Fair will be organised in Ho Chi Minh City's District 11 from December 19 to 22, providing numerous entertainment options for local residents and foreigners to celebrate the Christmas festival.
The fair will have outdoor and indoor spaces presenting unique cultural features and traditional cuisines of Vietnam and other countries in the EU.
Many special programmes will be organised for kids at the event, which will also offer the option of participating in charity events that support disadvantaged children.
Winter Fair 2013 is also being presented at chance for domestic and foreign traders and companies to share experience and business opportunities.
The fair will open at 6.30pm on December 19. It will have 80 companies presenting goods and services in more than 160 booths, and expects to receive 100,000 visitors.
'Vietnam's Moment' photo contest announced
A photo contest entitled 'Vietnam's Moment' 2013-2014 was officially launched yesterday by the Vietnam Digital Communications Association and the Vietnam Internet Association in Hanoi.
With the mission statement, "Every citizen, every photo shows love for family, homeland and country", the contest aims to promote the landscapes, country, people, customs, and specialties of Vietnamese provinces and cities. Its secondary purposes are to work towards the development of tourism and to attract investment. Additionally, the contest contributes to a digital database of 10 million of the best moments of Vietnam – the country and its people.
Entries must feature the beauty of Vietnam's nature, landscape and heritage, or the Vietnamese people, their traditions and customs.
The contest also offers an opportunity for amateur and professional photographers over the age of 15 to demonstrate their talents and exchange experiences.
Entries may be submitted to the website: khoanhkhacvietnam.vn. The contest runs from November 1 to April 30, 2014, and features VND500 million in prize money.
The organising board announced that during the first month, it received more than 2,000 photos capturing beautiful moments from over 1,000 photographers.
Source: VNS/SGGP/VNA/VOV/SGT