Online music prizes awarded
The song "Forever Alone", composed and performed by popular singer and rapper Justa Tee, was named Song of the Year at the annual Zing Music Awards for online music.
Announced at a ceremony held on Tuesday in Ho Chi Minh City, the award Art Council noted that the song satisfied local audience's tastes and met professional criteria with creativeness and by adopting modern features.
The song also won The Most Favourite R&B Song of the Year title, which has been judged based upon the number of listeners who clicked on the "like" button, contributed comments and shared the song on the online Zing Mp3 website.
The album "Nguoi Ay" (That Person), produced by Trinh Thang Binh, won Album of the Year.
Singer Le Quyen was named Artist of the Year, receiving 6 of 9 votes by the Art Council, while Noo Phuoc Thinh won Most Favourite Male Artist.
Also, composer Nguyen Hong Thuan received the honorary title of Most Favourite Composer at the ceremony.
Hue to host International Food Festival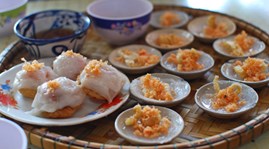 The event will feature 100 international stalls including 20 from Laos, Cambodia, Thailand, Myanmar, Singapore, Malaysia, Indonesia, Japan, the Republic of Korea, and China.
The food festival forms part of the Hue Festival 2014 (April 12-20) aiming to honour and introduce Vietnamese specialties and cuisines, especially those from Hue.
The central province of Thua Thien-Hue is home to the imperial Hue city complex and "Nha nhac" (royal court music), which were recognized as part of the world's tangible and intangible cultural heritage by the UNESCO.
Photo exhibition commemorates General Vo Nguyen Giap
A 40-photo exhibition capturing defining moments in the life of the legendary Vo Nguyen opened at Ho Chi Minh Women Cultural House on January 9.
The photos are selections from the 99 images author Doan Hoai Trung compiled in a photo book entitled "General Vo Nguyen Giap in my Heart".
The event gives visitors a chance to learn more about General Giap's revolutionary activities, daily life, and guiding passions for his soldiers and people.
It also marks General Giap's 100-day death anniversary, and celebrates the 84th anniversary of the founding of the Communist Party of Vietnam (CPV)
The exhibition will run until January 18.
Phu My Hung Spring Flower Fair reproduces waterland scenes
Phu My Hung Flower Fair 2014 themed 'Huong sac mien song nuoc' (Flavors and colors of waterland) for the Year of the Horse will focus on two highlights, a flower street displaying aquatic fauna species and a floating market which will start from January 23 in Phu My Hung Urban Area in HCMC's District 7.
On the water surface of more than 10 hectares of Crescent Lake, the floating market will feature dozens of boats loading and selling delta agricultural products and flowers. Women in ao ba ba (Southern traditional dress) and cay beo (a small stick in which the sellers hang their products) will color the market, bringing a memorable experience for visitors.
The flower and aquatic product street will feature on 700 meters around the lake and include more than 100 species of flowers and aquatic fauna species.
Moreover, the fair will bring tourists to a peaceful countryside scene with melon trellis, displaying areas of other flowers and ornamental trees of artisans and a shopping mall with 500 booths of flowers, ornamental trees, Tet products and areas for games and calligraphy.
The fair will take place until January 29. The opening ceremony will be held on the night of January 24.
Koganecho Bazaar 2014 calls for Vietnamese candidates
Koganecho Bazaar 2014 artist-in-residence program is calling on Vietnamese artists to get involved.
The art festival hosted by the Koganecho Area Management Center, a non-profit organization that uses art to revitalize the Koganecho Urban Area at Yokohama City's Naka Ward in Japan, has been held every autumn since 2008.
The festival uses everyday spaces in the city as stages and it has invited and presented more than 140 groups of artists, curators and architects from Japan and abroad. The festival examines current issues raised by contemporary art with an organizational plan that considers creation from concept to presentation as a consecutive process.
This year, the festival will be expanded into an international art festival showcasing thirty new works by both local and international artists and groups.
Artists from around the world can submit applications to the curator panel of Koganecho Bazaar and local cooperated curators. In Vietnam, curator Nguyen Nhu Huy, founder of ZeroStation in HCMC's District 3 is selected to accept applications from Vietnamese artists.
Two other curators Yamano Shingo and Makiko Hara will come to Vietnam to consider presentations of Vietnamese artists from 10:30 a.m. on January 21 at ZeroStation, 288 Nam Ky Khoi Nghia Street.
Each artist has 20 minutes to present their project before talking with the curators. Artists can email Huy at [email protected] or 0903 747 779 to register their presentation. The deadline for submissions is 5 p.m. on January 18.
The theme of Koganecho Bazaar 2014, organized in collaboration with local and international organizations and curators, is Fictive Communities.
The term community refers to both a residential area and a social unit, a group of people who share things in common, like language, interests, family, friends and a wide sense of contexts. From this point of view, everyone belongs to multiple communities and these communities are constantly changing and updating over time.
Koganecho Bazaar 2014 aims to create a place where artists can share and exchange thoughts on the utopic concept of Fictive Communities through the experience and interpretation of artworks by participating artists from diverse socio-cultural backgrounds.
Through the various cultural-exchange programs such as artists in residence, exhibitions, symposiums and workshops, Koganecho Bazaar 2014 hopes to incubate new thinking about relationships between heterogeneous communities that before had no contact with each other, while imagining Fictive Communities as a society in which diverse values coexist.
Selected artists to the resident program will be provided with a round-trip ticket between Vietnam and Yokohama, allowances during the residency from one to three months, costs for materials to make artworks, exhibition space and assistance to help them to finish their works.
VNA/VNS/SGT