Piano recital with Edna Stern
L'Espace invites you to a piano recital on January 9 with Edna Stern, who received much acclaim by the French magazine Classica-Repertoire.
"Combining poetry with splendid sound, Edna Stern has made a pleasant performance without showing off her virtuosity. She takes us through an unreal world with contrasting emotions, which we never want to leave out," it wrote.
In spite of being young, Stern is well-known in the most prestigious Western musical institutions, from Belgium, the US, Italy and Switzerland.
In Paris, she developed a strong bond with both old and contemporary compositions. Since 2009, she has also worked as a lecturer at famous Royal College of Music in London.
On January 9, she will present music pieces by F. Order, W.A. Mozart, J. Haydn, and L.V. Beethoven.
Tickets are available at L'Espace, 24 Trang Tien Street.
Russian literary prodigy holds exchange in HCM City
Young Russian literary prodigy Mikhail Samarsky on January 2 held an exchange with Vietnamese audiences in HCM City and presented audio books to the blind under the program "Seeds of the Soul" launched by First News Company.
The talent has been famous after his first book "A Rainbow for a Friend" was published when he was only 13 years old. The book has since been translated into many languages throughout the world, including Vietnamese.
During the exchange, audiences gave thunderous applause to the prodigy who is admired for his friendliness and kind heart.
On the occasion, the talent gave six Braille-display computers that he paid for with his own money to visually-impaired students from Nguyen Dinh Chieu Blind School.
Le Thi Nhung, a visually-impaired student in HCM City, said she was lucky to learn about "A Rainbow for a Friend" through audio books.
The organizing board also granted 24 scholarships and insignias to 10 visually-impaired outstanding examples who overcome their difficult circumstances and excel in their studies.
The "Seeds of the Soul" program also signed a memorandum of understanding with Russia's Living Hearts Fund to strengthen cultural activities. The organization "Seeds of the Soul-Living Hearts" plans to open an office in both HCM City and Moscow in the future.
HCM City concert features traditional music
Sai Gon Xua Va Nay (Saigon Then and Now), a new music programme featuring Viet Nam's traditional music and dances, will be organised on Sunday evening at HCM City's Opera House.
Folk songs and vong co (southern traditional tunes) will be performed by People's Artist Tran Hieu, People's Artist Thu Hien and Viet kieu singer Huong Lan, among others.
Linh Nga, one of the most talented dancers in Viet Nam, and young performers from Bong Sen (Lotus) Theatre will perform Vietnamese traditional dance.
Vintage cars and photos featuring Sai Gon (former HCM City) in the old days will be displayed at the Opera House on the day of the show.
After this first show, the programme will be organised on the fifth of each month at the Opera House, according to organisers, officials from the Bong Sen Theatre.
Photos of late General Vo Nguyen Giap on display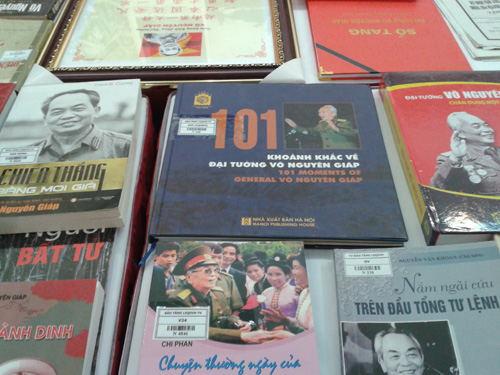 The week-long event, entitled "Honouring Chief Commander Vo Nguyen Giap", is being jointly held by the Vietnam Historical Science Association, the Association of Quang Binh Fellow Countrymen, Viet Culture Development Company JSC, and some other social associations.
It aims to highlight the huge contribution of the national hero, inspire patriotism, and serve as a great source of pride for young generations.
Former Deputy Minister of Culture and Information (now the Ministry of Information and Communications) Pham Khac Hai, who is also Chairman of the Quang Binh Association of Fellow Countrymen, said the display photos have been selected from thousands of photos on General Giap's daily life and work, as well as his historic achievements.
General Giap passed away at the age of 103 and rests in peace in his hometown – Vung Chua, Le Thuy District, the central province of Quang Binh.
Visual artist displays latest installations
Ha Noi-based visual artist Nguyen Tran Nam will showcase his new series of text installations, video art and paintings in his latest exhibition that will open on January 6 at Manzi Art Space.
Titled Nhung Chuong Vo (The Broken Chapters), the art show will include a looped muted video of a bullet ripping through the air, as well as handwritten texts that will be hung for display, describing the exact moment before, during, and after the bullet is launched.
A home video of the moment a father and son bond, which has been found and slowed down; and a group of nearly washed out photographs of young men, smiling, will be presented at the exhibition.
Rooted in the stories of his own life, but reaching out to tell the stories of others, Nam's work is personal yet universal, dealing with themes such as violence, death and the father-son relationship.
The Broken Chapters will be on display from January 6 to 25 at 14 Phan Huy Ich Street.
IDECAF to screen comedies
Four French comedies will feature in the monthly film screening by the Institute of Cultural Exchange with France (IDECAF) in January and February.
Radio Star, Coeurs (Hearts), Vive la France (Long Live France), and La Guerre est declaree (Declaration of War) will be shown on January 4 and 18 and February 15 and 22 with Vietnamese subtitles.
The shows will begin at 3pm at the Institute, 28 Le Thanh Ton Street, District 1.
US$1.8 million earmarked for Cat Tien relic preservation
The Central Highlands province of Lam Dong will spend VND38.1 billion (US$1.8 million) preserving, restoring and promoting the values of Cat Tien relic site in the remote district of the same name.
The project from now to 2017, funded by the National Target Programme on Culture, will reinforce unearthed mounds, conduct excavations, and build exhibition halls and other facilities to serve tourism purposes.
Discovered in 1985, Cat Tien relic site (also called "Cat Tien Holy Land") is a tower complex dating back the 4th to the 9th centuries and spreads more than 15km from Quang Ngai to Duc Pho communes of Cat Tien district.
Excavations have found a number of gold, silver, quartz, and bronze items at the site. However, experts said unearthed objects only form a small part of what beneath this site, which was recognised as a National Relic in 1997.
Vietnam now has 3,231 national relic sites, of which 34 were recognized as special national sites.
House music legend prepares to hit the decks
House music legend Alton Miller will perform at The Observatory in HCM City on January 11.
The Chicago-based DJ inspired by musicians Stevie Wonder and Santana, music collective Parliament-Funkadelic, and music style Philadelphia sound.
He has played with renowned DJs like Ron Hardy and Frankie Knuckles, and has produced more than 120 tracks.
The show will start at 10pm at the bar at the corner of Le Lai and Ton That Tung Streets in District 1.
Exhibition shoawcases cardboard creations
The Goethe-Institut will present an exhibition by two Ha Noi artists, Vu Dan Tan and Nguyen Nghia Cuong, at the HCM City Fine Arts Museum on January 10.
Venus in Viet Nam will showcase sculptures and installation works made of cardboard that reflect the image of femininity.
On display will be works selected by Iola Lenzi, a Singaporean curator and critic of Southeast Asian art, who will also introduce the works at the opening.
The exhibition will remain open until January 24 at 97A Pho Duc Chinh Street, District 1.
Phu My Hung to host charity walk for needy
The ninth Lawrence S. Ting charity walk will be held at the Phu My Hung Urban Zone on January 11.
All proceeds will be given to poor people in District 7, 8, Binh Chanh, and Nha Be to celebrate Tet and to city-based charities.
The walk will begin at 6.30am at the Crescent. Participants can register at phumyhung.com.vn
Book about miners' lives wins top prize
Nguyen Tri wrote his first book at 80 but has hit pay dirt, winning the annual prize for best book in literary fiction from the Viet Nam Writers Association.
His short story collection Bai Vang, Da Quy, Tram Huong (Gold-bearing area, gems, aloe wood) is about the life of illegal miners who dig for gold and gems.
Through them, he talks about people's sufferings to earn a living.
It was published by the Tre (Youth) Publishing House and garnered wide acclaim.
He shared the award with veteran author Ma Van Khang, whose Phut Giay Huyen Dieu (Miracle Minutes) is a collection of critical works and essays printed by the Writers Association Publishing House.
The award for poetry was won by another stalwart, Ma Giang Lan.
Nguyen Van Thai was honoured for his translation of Polish author Wladyslaw St. Reymont's The Peasant.
Tai Tu Music Festival ends in HCM City
More than 400 amateur artists took part in HCM City's annual Tai Tu Music Festival, which wrapped up on Sunday at the 23/9 Park in District 1.
One of the city's top troupes, the District 3 Cultural Centre, was the favourite with both the jury and audience and ended up winning the Golden Lotus.
The Silver Lotus was shared by the Tan Binh Cultural Centre and HCM City Cultural House for Students.
More than 1,000 songs and musical works were performed at the four-month event, where organisers awarded special prizes to a young talented singer, best singer, music player, and composer.
Tai tu is unique to southern Viet Nam and often associated with farmers and workers singing in the field or relaxing at the end of a hard day's work.
It is considered the forerunner of both vong co (traditional tunes) and cai luong (reformed opera).
One of the most popular tai tu songs is Da Co Hoai Lang, composed in 1919 by well-known author Cao Van Lau of Bac Lieu Province.
The HCM City festival, organised by the Voice of HCM City People in partnership with others, celebrated the coming together of stalwarts, young talents, music researchers, and fans of tai tu.
Stamps honour General Nguyen Chi Thanh
A set of special stamps marking the 100th birth anniversary of General Nguyen Chi Thanh (1914-2014) was issued in the central province of Thua Thien-Hue on Tuesday.
Speaking at the launch ceremony, Minister of Information and Communications Nguyen Bac Son highlighted General Thanh's devotion to the country's revolutionary cause.
Nguyen Chi Thanh, whose real name is Nguyen Vinh, was born in Quang Tho Commune, Quang Dien District, Thua Thien-Hue Province. He accepted the post of Director of the General Department of Politics of the Viet Nam People's Army in 1950 and was promoted to general in 1959.
During his 30 years of revolutionary activities, he established himself as a talented leader with an undaunted fighting spirit, making significant contributions to the success of the countrys revolutionary cause.
Source: VNA/VNS/VOV