Brit serenades locals with folk songs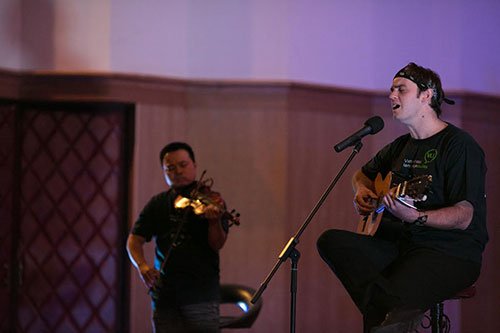 The English singer, who can sing Vietnamese like a local had local and foreign fans alike swooning to his emotionally-charged songs.
He even threw in an impromptu mix of Justin Timberlake's 'It's too late to apologize' switching from Vietnamese to English and back to Vietnamese.
The evening also featured the performance of two blind artists who are friends of the British star. The concert was organized as a platform for his nine-track CD Vietnam Oi (Dear Vietnam) which has been released on iTunes and is due to be released nationwide, according to his manager.
Of the nine popular Vietnamese songs, and includes tracks such as Diem xua, Nhu canh vac bay and Dem thay ta la thac do by late composer Trinh Cong Son.
"With my album, I want to reiterate my life philosophy that you only live once, to just grasp any opportunities that come to you."
The gig is part of Kirby's nationwide tour, which has seen him perform in Hue City, Hanoi, Hue and now HCMC.
Kirby's album is the result of his three-year project "Iced tea with Lee", which aims to promote Vietnamese culture and images to the world.
Kirby's manager Hoang Phuc Thong confirmed that the CD when launched will be available in the book stores of Phuong Nam Corp around Vietnam.
Writing, photo contest to fete South Sai Gon
A contest for writing and photography about the establishment and development of South Sai Gon will be held by Tan Thuan Industrial Promotion Company Ltd (IPC).
The contest aims to illustrate the development of South Sai Gon, which includes District 7, Nha Be District and part of Binh Chanh District, from a poor rural area to a dynamic centre.
The writing contest will start next month and end by the end of April, while the photo contest will start now and finish by the end of May.
Yearly literature prizes announced by Writers' Association
An essay and collection of notes by popular writer Ma Van Khang has been ranked top among works of literature winning the annual Viet Nam Writers' Association prizes.
The collection, entitled Phut Giay Huyen Dieu (Wonderful Moment), is the story of the author's experiences while working in various jobs, including mining for gold, searching
for aloe wood, processing coal, teaching English, slaughtering pigs and driving a taxi motorbike.
Other winning writers were Nguyen Tri for his short stories entitled Bai Vang, Da Quy, Tram Huong (Gold Mine, Germs and Aloe Wood); poet Ma Giang Lan for his poetry collection Nhung Lop Song Ngon Tu (Waves of Words) and translator Nguyen Van Thai for his Nong Dan (translated from the novel The Peasants by 1924 Polish Nobel winning writer Wladystaw Stanistaw Reymont).
Tri's short stories have been written in a special style, with strong southern features, while the translation novel, The Peasants, by Thai, was called a colossal and persuasive task.
The winners were selected among 200 entries from throughout the country.
The association will present the prizes to winners on January 19 at the Viet Nam Literature Museum in Ha Noi. During the ceremony, the association will also announce a list of 36 new members.
National festival to honour southern folk music
Southern folk music, Don Ca Tai Tu, to be celebrated at the first National Don Ca Tai Tu Festival, themed 'Don Ca Tai Tu – Love of Southern People and Land', scheduled totake place from April 20-25, 2014 in the southern province of Bac Lieu.
The event aims to honour and promote Vietnam's Don Ca Tai Tu, recently recognised as an Intangible Cultural Heritage of Humankind by UNESCO.
Organisers of the event also hope that the festival will help raise public awareness of the need to preserve yet develop traditional art forms, contributing to the conservation of the traditional cultural values of the country.
This year's event will draw the participation of artists, artisans and researchers from 21 provinces and cities in the east and the southwest and from the northern province of Ninh Binh.
As well as musical performances, there will be a ceremony to receive the UNESCO's certificate recognising Don Ca Tai Tu as an Intangible Cultural Heritage of Humankind and guests can enjoy an exhibition displaying traditional musical instruments.
Seminars on the preservation and promotion of the traditional musical art form will be given at the festival.
The National Don Ca Tai Tu Festival will be held triennially in the southern provinces and cities.
Dozen artists feature in Saigon exhibition
An exhibition by a group of 12 artists has opened at the HCMC Association of Fine Arts, introducing the latest pieces of artists who have affirmed their endless creativity and great efforts in the local fine arts scene such as Le Kinh Tai, Nguyen Quang Vinh, Bui Hai Son, Ca Le Thang, Vo Nam and Nguyen Chi Thanh.
There are 12 varied styles and themes, clearly shown in 25 paintings in oil on canvas and lacquer, 10 statues and one digital series of sculptural works in metal, wood, crystal and light. If Tai exposes the inner world of humans in weird colorful animal shapes with large teeth, queer legs and odd bodies, Vinh shows the romance and peace of sea scenery.
Son continues his devotion to large rice seeds while others express insightful preoccupations, social issues and contemporary concerns. The exhibition will run until Thursday at the association, 218A Pasteur Street in District 3.
Swiss economic book debuts in Vietnamese
The launch of the Vietnamese edition of "Swiss Made: the untold story behind Switzerland's success" by R. James Breiding will take place at the Mövenpick Hotel Saigon in Phu Nhuan District on Wednesday.
At the event, Nguyen Xuan Thanh, director of the Fulbright Economics Teaching Program, will discuss the main thrust of the book for Vietnam and Vietnamese entrepreneurs. Additionally, the managers of five leading Swiss companies from different sectors (DKSH, Holcim, Mövenpick, Roche and SGS) will share with the public on
how to remain global leaders in their respective sectors, despite fierce economic competition worldwide. Furthermore, Alpha Books will explain the reason why it is being translated into Vietnamese.
A debate involving all the speakers and a Q&A session with the public will be moderated by Nguyen Tuan Quynh, Chairman and CEO of Saigon Fuel JSC., and Vice President of the Youth Business Association of HCMC.
Breiding, an American investment advisor and former Swiss correspondent for Economist magazine, structured his book as a collection of case studies. Swiss Made is a compilation of several different best practices; it uncovers confidential procedures and unveils strategic visions that can be conducive to remain – or to become – a successful business company.
The event is organized by the Embassy of Switzerland in Vietnam ​and Alpha Books, JSC. For further information, call 04 3934 6589.
Belgian-Israeli pianist comes to Idecaf on Saturday
The French Institute in Vietnam and the Institute of Cultural Exchanges with France (Idecaf) will host a classic concert featuring Belgian-Israeli pianist Edna Stern at Idecafon Saturday at 8 p.m.
Classical fans can enjoy some masterpieces including 25th Suite for clavecin: The Monflambert (F. Couperin), Sonata in D minor and Sonata in R minor (Galuppi), Fantasy in D minor K. 397 (Mozart) and Sonata op 13 "Pathetique" (Beethoven), among others.
Stern began to play the piano aged six. She is well-known in most Western musical institutions, from Belgium, the U.S. to Italy and Switzerland. In 2000 she won theinternational competition, Senigallia, and in 2001 the Juventus Award.
In 2003 Stern moved to Paris where she began to play the fortepiano. Her first release 'Chaconne' was named the best CD of 2005 by Arte. Since 2009, she has been a lecturer at the Royal College of Music in London.
Tickets to the show are priced at VND100,000 per guest and are available at Idecaf, 31 Thai Van Lung Street, District 1. Students can enjoy a 10% discount. For further information, call 08 3823 9968.
Wendigo group wins Best Film at Sci-Fi awards
HCMC-based Wendigo won Best Film with 'The Last Generation' last Saturday during the first season of Western Digital's Project: Sci-Fi Film Challenge in Vietnam at a ceremony at Cargo Bar in District 4.
The team also pocketed five out of the 14 other major awards including Best Director (Thibaud Talliant) and Best Actor (VN Rapper – Wowy Nguyen), both for The Last Generation, and also Best Writing, Editing and Special Effects.
Cinematography and first runner-up in the Best Film category for Gia (Fake). Best actress went to Huyen Ton Nu Nhat Ha for the movie Thanh pho chet (Dead City) from Lee Film and Best Writing went to the Black Sheep team for Bong mat troi (The Sun's Shadow).
The award ceremony featured 15 final teams from HCMC and over 400 amateur and professional film-makers alike.
Popular director Nguyen Quang Dung and Sci-Fi Film and TV producer Andrew Cosby from the U.S. presented the awards throughout the evening. Over the past three months, Project: Sci-Fi has conducted over 20 film workshops in schools and for the public to promote and educate people about Science Fiction and how to create Sci-Fifilms.
Through this connection with the community, Project: Sci-Fi received over 120 film team registrations from HCMC, Hanoi, Can Tho, Thai Nguyen, Lang Son, Phan Thiet and
Danang during the event launch in early November. After the first month's filming period, Project Sci-Fi screened the movies on YanTV's website: www.scifi.yan.vn from December 6-27.
Over 3,000 people were directly engaged in the competition and the films received over 100,000 views/likes/shares. The ages of participants ranged from high school students to professional film and TV producers.
The organizers have divided the project into two geographic groups. This ceremony was for the southern film entries with another to take place in Hanoi on Sunday for
northern filmmakers.
VNS/VNA/VOV/Nhandan/SGT/SGGP