Finger-painting artist displays art works in Da Lat
A painting exhibition by Vo Trinh Bien, a famous Vietnamese finger-painting artist opened at the exhibition hall in Hoa Binh Square in Da Lat City on January 8.
The display presents to viewers 59 pictures which were selected from more than 100 oil paintings and created in 2013.
On the occasion, the painter also introduces two painting books, measuring 90×110 cm of each.
The artist displayed a 200-kg calligraphy book of Binh Ngo Dai Cao, a famous Vietnamese manifesto marking the 1000th anniversary of Thang Long-Hanoi in 2010.
Having a passion for art since childhood, Vo Trinh Bien explored a new style of drawing by fingers. He has launched few exhibitions which attracted local and foreign visitors. Some of his art works have been displayed in Vietnam Fine Art Museum.
Rockstorm to heat up capital
A storm of rock music will heat up My Dinh Stadium in Hanoi on January 11. This comes after successful nights in six cities and provinces from December 7to Januay 4.
The RockStorm 2013 show in Hanoi has the participation of the Swedish band, Andromeda and Vietnamese leading rock bands namely Buc Tuong (the Wall), Ngu Cung (Pentatonic), Microwave, KOP, Oringchains and Thuy Trieu Do (red tide).
The rock performing tour to six cities and provinces collected over VND1.6 billion from ticket sales that will go to the Operation Smile Viet Nam Fund, and to fund poor studious students in each of the cities.
The RockStorm 2013 tour concerts, this year themed "Burn with Aspirations", took place in Hai Phong, Hue, Da Nang, Bien Hoa, Ho Chi Minh City, Can Tho, and Ha Noi.
Rockstorm has been organized and sponsored by MobiFone since 2007.
Magazine names VN's top men of 2013
On Tuesday night, Viet Nam's most successful men were honoured for their professionalism, contribution to their field and influence, at the "Men of the Year 2013" ceremony held in HCM City.
From actors and singers to comedians and designers, the country's biggest stars were present, including actors Johny Tri Nguyen, Thai Hoa, director Charlie Nguyen, musician Nguyen Le, singer Tung Duong, artists Thanh Loc, Le Khanh, fashion designer Cong Tri, and magicman Majik Nguyen.
At the ceremony, 11 awards were presented across industries from film to art, music, fashion and business.
The Men of the Year awards were launched by The Thao, Van Hoa & Dan Ong (Sports, Culture & Men) magazine in 2005. This was their third awards ceremony.
Artists pay homage to feminine beauty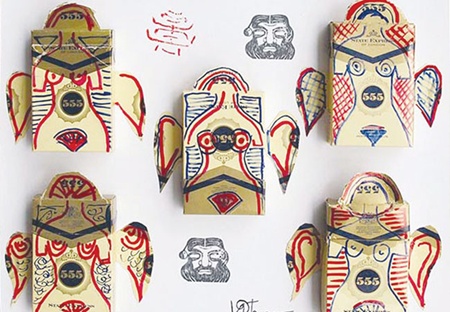 Titled Ve Nu O Viet Nam (Venus in Viet Nam): Vu Dan Tan and Nguyen Nghia Cuong, the exhibition features installations and sculptures by late popular artist Vu Dan Tan (1946-2009) and Nguyen Nghia Cuong, (born in 1973).
The exhibition compares and contrasts perspectives of feminine beauty as it relates to both gender and sexiness, providing an opportunity to look back at local art that appeared during two important events in the 20th and 21st centuries.
In September 2012, an exhibition titled Venus in Viet Nam was organised in Ha Noi, where for the first time, many of Tan's works were introduced to the public.
At the time, delicate suitcases made of cardboard and miniature female figurines placed inside cigarette boxes were a special treat for the public.
During the 1980s, Tan was among the first to exhibit new styles of art in Viet Nam, showcasing multimedia works and various other art forms, using materials available for everyday use – items that had never been used for making art before.
He is considered a pioneer of various art forms of the pre-doi moi (renovation) period [pre-1986].
Some of his sculptures were displayed at the Sculpture Triennial in Fellbach, Germany, in 2001 and at other exhibitions in Japan, the Netherlands, and Singapore.
Nguyen Nghia Cuong, who graduated from the Viet Nam Fine Arts College, is known for his ironic view of contemporary realism.
In his latest work, titled Beauty High Quality, he explores the common features of popular culture and advertising.
The upcoming exhibition in HCM City will focus on the beauty of women in the social, cultural and political context of Vietnamese society at the end of the 20th and in the early 21st century.
The organiser, the Goethe Institute in HCM City, will host a talk show with artist Cuong and two curators: Natalia Kraevskaia and Iola Lenzi.
Lenzi will discuss Tan's women and the symbols of beauty in his art, while Kraevskaia will talk to Cuong about his works and ideology. The talk show, which is to be conducted in Vietnamese and in English, will air at 3.30pm on Sunday at the museum on 97A Pho Duc Chinh Street, District 1.
Art films on Ha Noi daily life to hit screens
Manzi Art Space will kick-start a new series of experimental movie and video art screenings entitled Chieu Bong (Vietnamese for Cinema) with the screening on Sunday of The Sound We See: A Ha Noi City Symphony – a cinematic exploration of the dynamic urban environment of Viet Nam's capital.
For a month, 18 local filmmakers worked together to document the rhythm and movement of daily life in Ha Noi from their unique perspectives. Dividing the day into its two-dozen hours, participants shot locations they felt best represented the city at each particular time of day and night with each hour becoming one minute in the final film. The result is a spectacular 24-minute journey through the city as it has never before been experienced, shot on black and white Super 8 motion picture film and hand-processed by the filmmakers.
A series of experimental short films by Ha Noi Doclab's filmmakers entitled Four Windows will also be introduced.
The screening will start at 8.30pm at Manzi Art Space, 14 Phan Huy Ich Street. Free entry, seats limited. Please pre-register at [email protected] before 2pm Saturday, Jan 11.
Art performances to welcome Tet in Hanoi
Hanoi's Department of Culture, Sports and Tourism plans to organise a wide range of activities to welcome the lunar New Year Festival (Tet).
From 9pm of January 30 (the last day of the lunar year), art performances will warm up the atmosphere around firework display venues in districts across the city.
A special programme to welcome New Year's Eve will also be held at the August Revolution Square and the Thang Long Imperial Citadel.
On February 3-5, local people will be entertained with comedy shows, circus displays and Cheo (Vietnamese traditional opera) performances.
Hoang Sa sovereignty exhibition held in Danang
An exhibition which proves Vietnam's indisputable sovereignty over the Hoang Sa (Paracel) archipelago opened in the central city of Danang on January 9.
The event was jointly held by the Quang Nam provincial Department for External Affairs, the Hoang Sa district People's Committee, Danang Museum, Danang University, and East Asia University.
On display are nearly 300 documents, items, publications and maps collected by domestic and international researchers and scholars.
The exhibits, including those from China, demonstrate unequivocally that Vietnam has continually exercised sovereignty over the Hoang Sa and Truong Sa (Spratly) archipelagos since the 17th century in line with international law.
Meanwhile, Danang city's leaders have approved a project to build a museum on 714sq.m. to display historical documents, maps, and items demonstrating Vietnam's sovereignty over the Hoang Sa archipelago.
The museum will be located on Hoang Sa Street in Man Thai ward, Son Tra precinct.
Military artists perform in Laos
A Vietnam People's Army art troupe performed at the Lao National Cultural Palace on January 8 in celebration of the 65th founding anniversary of the Lao People's Army.
Lao National Assembly Chairperson Pani Zathotou, many senior officials of the Lao Party and State, and a large number of military officials and soldiers attended the event.
The performance, a cultural exchange for the Vietnamese and Lao people, received a tremendous applause from the audience, thus enhancing bilateral friendship and solidarity.
The Vietnamese art troupe made a performance tour of Vientiane and Xieng Khouang provinces, praising the late President Ho Chi Minh of Vietnam and the late President Kaysone Phomvihane of Laos, as well as the two countries' traditional friendship and special solidarity.
Homeland Spring to greet overseas Vietnamese
The annual Xuan Que Huong (Homeland Spring) performing arts programme for overseas Vietnamese will be organised on January 23 this year, according to the State Committee for Overseas Vietnamese Affairs under the Foreign Ministry.
The annual programme welcomes overseas Vietnamese returning to the country for the Lunar New Year (Tet) holiday, which falls on January 31 this year. The event will be held at the Thang Long Imperial Citadel in Hanoi, with high-ranking Party and State leaders and prominent Vietnamese nationals from around the world expected to attend.
Overseas Vietnamese artists are expected to wow the Hanoian crowd with special performances.
There are currently around 4 million overseas Vietnamese living and working in 103 countries and territories.
New documentary features tai tu music
Vu Khuc Dong Duong ( Indochina Dance), a new documentary featuring tai tu traditional music of southern Viet Nam, was completed in HCM City recently. The documentary is a remake of Indochina Dance filmed in Paris in 1900.
The original Indochina Dance was discovered by the Australian-Vietnamese music expert Nguyen Le Tuyen while he was conducting research on the musical genre at the French National Library last year.
The dance was performed by famous French ballet dancer Cleo de Merode, accompanied by artist Nguyen Tong Trieu's tai tu music troupe. According to Tuyen's discovery, it was last performed at the Indochina Theatre at the Paris International Fair in 1900.
Artist Nguyen Tong Trieu was the founder of a well-known tai tu music troupe in the early 20th century in the Mekong Delta region.
The new version of Indochina Dance features HCM City dancer Trac Thuy Mieu and Australian dancer Geraldine Balcazar.
Taking part in the production of the new version of Indochina Dance, besides Tuyen, are Prof. Yves Defrance of Rennes University in Paris and filmmaker Huy Moeller from the Sai Gon International Cinematography School.
Exhibition honours Vietnamese folk paintings
An exhibition of 15 Vietnamese traditional paintings will open at L'Espace, 24 Trang Tien Street, on Janury 13.
Titled Vietnamese Folk Painting – Trio Painting Sets, the exhibition features selections from Henri Oger's Technical Encyclopedia and Maurice Durand's Folk Paintings – both studies done in the first half of the 20th century in northern Viet Nam.
The event will also feature unpublished wood carvings of Luc Van Tien coloured paintings dating back to the late 19th century.
The exhibition is held by the French Development Agency and the French Academy of the Far East and focuses on aesthetic value, the promotion of Vietnamese folk culture and the conservation of written material heritage.
Seminars led by well-known scholars will be held within the framework of the exhibition.
The exhibition will stay open until February 28.
British electro music artist to perform
British electronic music artist, DJ, visual artist and actor Goldie will perform at Lush bar today.
Goldie is well known for his innovations in the jungle and drum and bass music genres. In 1995, his first studio album Timeless entered the UK albums chart at number seven. The artist has also appeared in film and television.
The show will start at 9pm at 2 Ly Tu Trong Street, District 1.
Japanese jazz band performs at City Sofitel
Japanese jazz band Salon de Saigon will perform at Sofitel Saigon Plaza's Boudoir Lounge on January 18.
The group, formed in 2012 with five female artists and one male drummer, will play both traditional jazz tunes and Japanese blues.
The performance will begin at 8pm. The hotel is at 17 Le Duan Street, District 1. Admission is free.
Calligraphy students usher in Tet at VinSpace
Art gallery VinSpace will host calligraphy classes for adults and children on January 18 to welcome Tet.
Students will learn to write in traditional Vietnamese calligraphy New Year wishes, producing an ideal gift for friends and family.
The classes are from 10am-12pm for kids and 2-4pm for adults. The VinSpace Garage is at 95 Pasteur Street, District 1. More information can be found at www.vin-space.com or 0907729846.
My Duc improves infrastructure for forthcoming festival
The opening of a new road system will aid people wishing to enjoy the upcoming Huong (Perfume) Pagoda Festival in My Duc district in the outskirts of Hanoi.
The district People's Committee on January 7 announced that a new 7km road from Phu Ly city in Ha Nam province through to the pagoda has been opened, increasing the number of routes to the pagoda to four, which is set to reduce the traffic load for the upcoming annual festival.
The Huong Pagoda is a vast complex of Buddhist temples and shrines built into the Huong Tich limestone mountains in My Duc district's Huong Son commune, about 60km from central Hanoi.
The site is most crowded during the festival, which takes places during the first three months of the Lunar New Year.
In order to ensure good services and safety for visitors during the Huong Pagoda Festival this year, authorities in My Duc have also invested 18 billion VND (850,000 USD) in building other facilities.
According to the festival managers, they will continue to inspect and manage food-beverage businesses to ensure food hygiene and safety, security, and a clean environment during festival time.
Local music, paintings to be showcased in Singapore
A music show featuring Vietnamese singers Bang Kieu, Hong Nhung, Le Hieu and Phuong Vy will take place at the famous Marina Bay Sands resort in Singapore on January 11.
Themed "Da Khuc Mua Xuan" (Spring Serenade), the show is organized to bring the atmosphere of Vietnamese Tet to Vietnamese people living and working in Singapore as well as Vietnamese tourists there. The audience will see love and spring-themed songs which have made the reputations of the participating singers. Besides solo performances, the singers will also perform never been seen before duets.
Tickets can be bought at www.sistic.com.sg or Dong Dao Music Lounge, 164 Pasteur Street in Ho Chi Minh City's District 1. "Da Khuc Xuan" will be held at 7:30pm at Marina Bay Sands' Sands Theatre.
Four days later, the Hanoi-based CUC Gallery will participate in the Art Stage Singapore 2014 fair from January 15 to January 19 also at the Marina Bay Sands. The Gallery will present paintings by local artists including Nguyen Trung, Do Hoang Tuong, Nguyen Son, Ly Tran Quynh Giang and Duong Thuy Lieu.
Founded by Lorenzo Rudolf, Art Stage Singapore has attracted art collectors and artists from many countries with a focus on Asian contemporary art. Last year it attracted more than 35,000 visitors with the participation of over 100 galleries from 23 countries.
VNA/VNS/VOV/SGGP