VietNamNet Bridge – Installation and sculptural works in the exhibition 'Venus in Vietnam' by Vu Dan Tan and Nguyen Nghia Cuon, focusing on the image of femininity, will open at HCMC Museum of Fine Arts on today.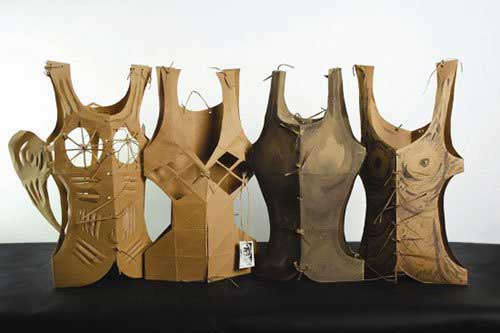 Works in the exhibition 'Venus in Vietnam' by Vu Dan Tan and Nguyen Nghia Cuong – Photo: Courtesy of organizers
Originally organized in 2012 in Hanoi by Goethe Institute and curated by Iola Lenzi in collaboration with Tan Foundation, the critically-acclaimed exhibition compares and contrasts the works of two Hanoi artists born a generation apart.
The exhibition features works by Tan (1946 -2009) that are still relatively unknown in Vietnam, which are delicate cardboard suits and miniature installations of female figures in glass-lidded cigarette boxes.
Tan, whose multi-media cross-disciplinary practice broke new ground in the 1980s with its playful and conceptual use of found materials, is one of the leading artists of Vietnam's post-renovation scene. The show will present Tan's internationally-exhibited Fashion series.
Meanwhile, Cuong (born 1973), a graduate of Vietnam Fine Arts University, is known for his ironic approach to contemporary reality, dominated by consumerism and brand-culture. Here he presents his recent painted card box series Beauty High Quality investigating the intersection between popular culture, advertising, and life and society.
The present exhibition showcases works focusing on female iconography and sexuality, and these two themes' expanded meaning in the social and cultural context of late twentieth century-early 21st century Vietnam.
Tan's key works of the last decade, juxtaposed with new works by Cuong, together offer a little-explored but historic relevant perspective on the role played by gender, sexuality and women in Vietnamese visual arts at the turn of the century.
The show is documented by a comprehensively-illustrated catalogue including an essay by Southeast Asian contemporary art specialist Iola Lenzi, a researcher and a frequent curator of Tan.
An art talk with Q&A presented by Goethe Institute HCMC in collaboration with artist Nguyen Nghia Cuong and curators Natalia Kraevskaia and Iola Lenzi will be held at the museum at 3:30 p.m. on Sunday. Admission is free and is in English with Vietnamese translation offered.
Lenzi is a Singapore researcher, curator and critic of Southeast Asian contemporary art. She lectures in the Asian Art Histories MA program of Singapore's Lasalle – Goldsmiths College of the Arts, is an advisor/contributor of the 'Journal of Fine Arts'.
Silpakorn University, Bangkok, and the author/editor of regional visual art research essays and catalogues.
She has conceptualized in numerous exhibitions of Southeast Asian art in the region and China.
The exhibition will run until January 24 at the museum located at 97 Pho Duc Chinh Street in District 1.
Source: SGT