(VOVworld) – UNESCO recognition of music and songs of Vietnam's southern region called Don ca tai tu is one of prominent cultural event in Vietnam in 2013. In today's edition of Culture, VOV's To Tuan looks back at last year's cultural achievements.

UNESCO recognized Vietnam's Don ca tai tu music and songs at its 8th session in Azerbaijan on December 5, 2013. According to UNESCO's assessment, this musical genre has met the criteria to be included on the Representative List of the Intangible Cultural Heritage of Humanity. It has been passed down from generation to generation through formal and unofficial forms of education in all 21 provinces where the art form is popular. Don Ca Tai Tu has continuously been popularized through cultural exchanges among peoples, showing their mutual harmony and respect. Deputy Foreign Minister Nguyen Thanh Son, who is also Chairman of the VietnamNational UNESCO Committee, says: "This joy is not only shared by people in 21 southern provinces and cities but also across the country and abroad. The recognition of Don ca tai tu means a precise assessment of the origin and the spreading of Don ca tai tu works created by artists a long time ago".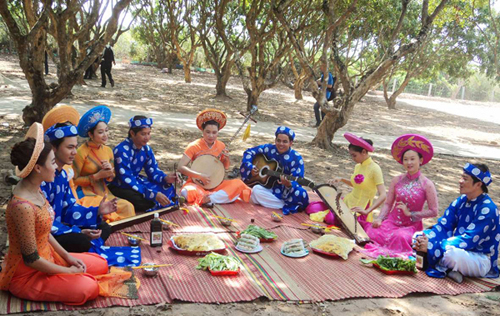 Vietnam became an official member of the UNESCO World Heritage Committee on November 20, 2013. The admission confirms Vietnam's regional and global prestige in managing and preserving world heritage. Vietnam now is able to vote for global cultural values and have more say in promoting its national culture. Vietnam will voice its views on UNESCO's professional matters related to the recognition of world natural and cultural heritage. The country can also weigh in on the assessment of heritage preservation worldwide and help set guidelines and orientations for the Convention Concerning the Protection of the World Cultural and Natural World Heritage. Professor Ngo Duc Thinh, a member of the National Heritage Council:"We will continue to make national and international heritage nominations in the years to come. In addition, we will refine the Law on Heritage. We should also uphold the opportunities brought about by our membership to UNESCO World Heritage Committee".
Another notable cultural event was a meeting in mid August to review the implementation of a Party resolution on "Building and developing the Vietnamese culture imbued with advancement and national identity". Vietnamese culture managers shared the view that after 15 years of implementation of the 5th plenum resolution of the 8th Party Central Committee, the awareness of culture's role has been enhanced remarkably. Cultural resources, particularly human resources, have been upheld comprehensively. The culture sector has built a healthy lifestyle for the Vietnamese people with the motto: "Humans are both creative subjects and objectives of cultural development".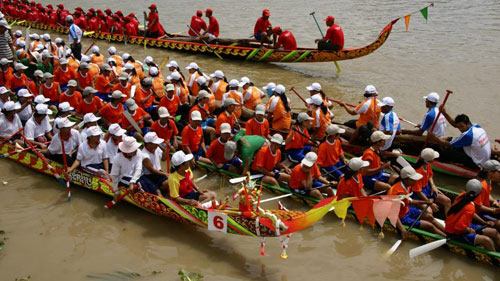 2013 marked the first National Great Solidarity-Vietnamese Cultural Heritage Week in Vietnam in late November. The week covered a wide range of activities including an exhibition of Vietnamese kites and kite flying techniques, folk music shows reproducing well-known floating markets of the Mekong River Delta, and ethnic markets in the northern mountain region. Organizers also introduced the Bay Nui ox race, the Ok Om Bok festival of the Khmer people, and the Cam Muong festival of the Muong ethnic group. The event was attended by village patriarchs and artisans of 17 ethnic groups from 13 provinces and cities and about 400 regional representatives.
Other cultural activities of 2013 included Quang Nam Heritage Festival, the boat racing festival of the Khmer and Da Lat flower festival. There were also cultural programs to mark diplomatic ties between Vietnam and other countries.
To Tuan