US classical musicians to entertain
Five young artists and conductor Clay Couturiaux from the in the US and the HBSO Symphony Orchestra will perform at a monthly music programme at the Opera House tonight.
They will perform Edward Elgar's Introduction and Allegro for String Quartet and String Orchestra, op. 47; Brahms's Concerto for violin, cello & orchestra in A Minor, op. 102; and Mozart's Sinfonia Concertante for violin, viola & orchestra in E-Flat Major, K.364.
Couturiaux began his musical studies at the age of eight, learning the cello and piano. He got degrees in both conducting and the cello from the.
He has over two decades' experience in conducting symphony orchestras and teaching.
He has performed with the Milano Classica Orchestra da Camera in Milan, Italy, and in Taipei with the Taiwan Normal University Symphony Orchestra.
The monthly show by the HBSO, known as Young Melodies, is a series if free concerts to educate the younger generations in music and dance. Invitations are available at the venue at 7 Lam Son Square, District 1, and the HCM City Student Support Centre, 33 Nguyen Thi Minh Khai Street, District 1.
Long Bien Bridge recognised as national historical site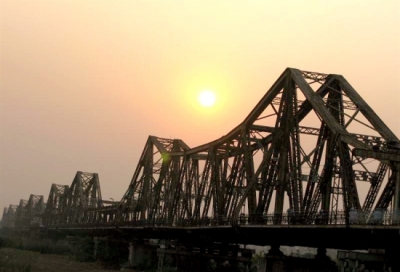 The Ministry of Transport also asked Hanoi Municipal People's Committee to prepare a dossier to recognise the bridge, according to regulations.
Designed by the French architect, Alexandre Gustave Eiffel, the 2,290m Long Bien Bridge was built between 1897 and 1902 and opened to traffic in 1903.
As the only bridge across the Red River that connected Hanoi to the highway leading to the northern port city of Hai Phong, the bridge played a crucial role in many important events in the country's history, including the independence wars.
The bridge was initially called the Doumer Bridge. At the time of construction, it was one of the world's longest bridges and one of the most important engineering works of the Far East.
It was built by contractor Daydé & Pillé, under the leadership of the Indochina Governor Paul Doumer.
After the country's liberation, the bridge was renamed Long Bien.
For over 100 years, it witnessing many changes and from the country's wartime to peacetime, Long Bien Bridge has become a symbol of the history of Vietnam.
Exhibition on Vietnam's sovereignty over sea, islands
About 112 photographs featuring Vietnamese sea and islands are on display at an exhibition, which opened in Hanoi on May 28.
They illustrate the daily life and work and defence of sovereignty over sea and islands.
The exhibition includes the latest photos on the struggle to defend Vietnam's sovereignty over sea and islands, against China's illegal placement of drilling oil rig at Vietnam's Exclusive Economic Zone and continental shelf.
The photos depict how Vietnam's coast guards approached the oil rig, escaped Chinese ships' attacks, and exercised restraint to reduce tension.
The exhibition gives visitors fresh insight into China's violation and helps raise photographers' voice demanding China to withdraw its oil rig from Vietnam's EEZ.
At the opening ceremony, Deputy Minister of Culture, Sports and Tourism Ho Anh Tuan said that the exhibition conveys a message of peace and solidarity to people across the country and around the world. It asserts Vietnam's strength and sovereignty over Hoang Sa (Paracel) and Truong Sa (Spartly) archipelagoes.
The exhibition will run until June 5.
Events held to celebrate Day for Children
Entertainment centres in HCM City have offered new shows this week on the occasion of International Day for Children (June 1).
At District 9's Dam Sen Tourist Park, traditional art troupes will organise the variety show Summer for Children with singers, dancers and puppeteers. It will open on Friday and perform daily until mid-June.
The park's annual festival Cuisine of Southern Region 2014 will open tonight, featuring hundreds of stalls displaying traditional fruits and vegetables, and dishes cooked by artisans.
The 23-9 Park Circus Theatre in District 1 will offer a circus and drama show, Co Tich Cho Em (Legend for Children), featuring music, dance, pantomine and circus tricks. The show is about children on a magical adventure that helps them learn about people and animals.
More than 350 poor students from 24 districts around the city will participate in the event Tet Cho Em (Festival for You), organised by the Khan Quang Do (Red Scarf) newspaper in co-operation with its partners, Tan Binh District's Youth Union.
Many games, music and song shows, exhibitions, paintings and sport competitions will be featured.
The organisers will present toys and candy donated by local organisations to children.
The event will begin on May 30 at Hoang Van Thu Park in Tan Binh District.
Two prestigious art troupes for children, the HCM City Circus Troupe and Puppet Troupe, will perform new plays based on traditional legends, including Tran Quoc Toan (Young Hero Tran Quoc Toan) and Thach Sanh Chem Chan (Young Hero Thach Sanh Kills the Beast).
These special performances will combine the traditional genres of circus and puppetry as well as modern music and dance. The producers have invested in theatre costumes and sound and light effects to dazzle young audiences.
The shows will open on May 30 and will continue to be staged every weekend until mid-June.
"We will offer quality shows for children that have a cast of interesting characters, as well as different theatrical styles," said stage director Nguyen Tan Loc of the HCM City Puppet Troupe.
Loc's staff includes famous comic actors Dai Nghia and Dinh Toan.
Meanwhile, cultural houses for children are launching contests in cooking, painting, story-telling, singing and dancing. Topics on peace and love will be highlighted.
Several thousand gifts and toys collected by charity organisations and individuals will be given to disadvantaged children living in open houses and shelters around the city on the special day. Volunteers from universities will visit and play with the kids.
Supermarkets and hotels have invited young singers such as Miu Le, Noo Phuoc Thinh and Minh Hang to attend their celebrations. Promotions have been offered to attract children and their parents.
Spratlys' theme for kids' festival
A large map of Viet Nam will be displayed at a children's festival in Ha Noi on Saturday so that they and other visitors can write or draw on it to express their feelings to those defending the country's sovereignty.
After the event, the embellished map will be sent to the Truong Sa Islands (Spratlys).
The festival, part of International Children's Day, will feature a wide range of entertainment and education activities.
It will also feature a display of more than 100 paintings by children.
In conjunction with the National Museum of History, the organising board will hold a series of I Love History programmes where children can play and learn about the past.
The themes will be about patriotism and defence.
There will be plenty of music, dance and even a circus – and an aerobics competition will be held for children aged five to nine.
The festival will be held at the Viet Nam Exhibition Centre for Culture and Arts, 2 Hoa Lu Street, Ha Noi.
Southern fruit fair to open in City
More than 180 varieties of specialty fruits from 21 cities and provinces will be showcased at the Southern Fruit Festival that will open on June 1 at the Suoi Tien Theme Park in HCM City's District 9.
The highlight of this year's event is a floating fruit market with more than 70 boats loaded with different kinds of fruits that will be sold at 20-40 per cent lower than market prices over the next three months, according to organisers.
Nearly 1,000 fruits of 11 kinds have been entered in a 'safe and delicious fruits' contest to be held during the fair. There will also be a fruit parade and arrangement to depict graphic arts, art performances, and folk games.
Kids will get free tickets to the eventl on Children's Day, June 1. Last year the fair attracted more than 1.6 million visitors who bought more than 1,000 tonnes of fruits.
The festival, which debuted in 2004, has become a popular cultural tourism activity, La Quoc Khanh, deputy director of the city Department of Culture, Sports and Tourism, its organiser, said.
It will go on until June 8.
Le Petit Prince to reign at Metropole
Le Petit Prince, one of the most beloved children's stories of all time, is coming to Ha Noi next month.
Starting from June 1 – International Children's Day – the 113-year-old Sofitel Legend Metropole Hanoi Hotel will host an exhibition, called Le Petit Prince's Journey, which is an old children's tale of a little boy fallen to Earth who encounters the strangeness of the adult world for the first time.
The month-long exhibition will feature scanned copies of the pages of the original manuscript produced by the book's author Antoine de Saint-Exupery; selections of artistic photography by Vincent Nguyen of locations around the world travelled by Saint-Exupery; and a rare colour film recording Saint-Exupery writing the story in Canada in 1942.
Sofitel organised the travelling exhibition as an opportunity to expose its work with the Saint-Exupery Foundation, a group that promotes initiatives to support children living in difficult environments.
HITS stages newest productions
The Hanoi International Theatre Society is back and taking to the stage with its newest productions from veteran and newcomer directors team.
Veteran thespians Kelly Brennan, Christophe Barthe and Nadia Engelbrecht, as well as new members Nic Sando and Matt Barns, will take on the role of directors with a series of one-act plays performed over an epic three-day event.
Productions including Blythe Spirit; Words, Words, Words; Art House; Friendship; and The Cockroach will be presented from May 29 until 31 at Chez Xuan Restaurant Garden Bar and Grill, No 41 Alley 76 An Duong Street, Tay Ho District. Find more information online at hitshanoi.com.
Bicycle ride around city
Positive Mass is an event inspired by an international event called Critical Mass, aiming to promote cycling for all its positive reasons. Critical Mass is a cycling event typically held on the last Friday of every month in over 300 cities around the world. The ride was originally founded in 1992 in San Francisco. The purpose of Critical Mass is not usually formalised beyond the direct action of meeting at a set location and time and travelling as a group through cities or towns on bikes.
In Ha Noi, Positive Mass is called Dap Cho Suong, literally meaning cycling for pleasure. Bikers meet on the last Friday of every month at St. Joseph's Cathedral and travel around the city following a prepared route that ends back at the cathedral. The first Positive Mass in Ha Noi started in October 2012. Since October 2013, Positive Mass expanded to HCM City, Thai Nguyen and Son La.
This month's Dap Cho Suong – Positive Mass will be held at 8pm on Friday, May 30.—
New Orleans jazz fest in District 4
The New Orleans Bourbon Jazz Festival featuring music, dance, Cajun food and coolers will be held at the Q4 event space in District 4 on May 31.
The event, organised by Arts for Mobility, an organisation that raises funds for charity, will feature blues and soul singer Eugene "Hideaway" Brides from New Orleans and jazz singer Shun Sakai from Tokyo. City-based artists like the Wanderlusters and The Blue Brothers will also perform. There will be jazz dance performances by the Urban Dance Group as well as belly-dance shows by the Saigon Belly Dancers.
Tickets are VND500,000, including VND200,000 for food and a drink voucher.
All proceeds will be donated to Kids First Vietnam to buy wheelchairs for children in Dong Ha Town in Quang Tri Province, and to help send them to school.
The festival will begin at 4pm at 7 Nguyen Tat Thanh Street in HCM City's District 4.
Rock concert with Dissonant Nation
Rock band Dissonant Nation will be performing at L'Espace, 24 Trang Tien Street, on Saturday, May 31.
With the resonating album titled We Play We Are in Their Credit, the trio from Aubagne have a dynamic style of rock performed in three languages: French, English and Marseilles. Their energy guarantees to burn the night away, and expect a vigorous yet refreshing performance.
Ticket price: VND120,000 or VND60,000 for members of L'Espace and students.
IDECAF play sets Ulysses myth in Viet Nam
The French Institute in Viet Nam, or IDECAF, will stage the play Ulysses Oi, Where are You Going? by Puzzle Group and Thang Long Company on June 14.
The play will recast the myth of Ulysses and present it as a mixture of songs and drama set in a modern Vietnamese context.
After 10 years away from home, Ulysses decides to return to Ithaca island to find his wife Penelope and their son Telemachus, whom he has never seen.
With help from friends and his people, Ulysses overcomes various challenges.
A troupe of artists and an ensemble of musicians will present one of the greatest tales of ancient Greek mythology.
The play will be in Vietnamese and French.
Entry will be free.
Video festival calls for worldwide entries
The festival Les Instants Vidéo in France, an event dedicated to media arts (video and digital), is calling for submissions from artists from around the world. Every year, the festival presents an international selection of video arts, installations, performances, experimental documentaries and artists' CD-ROMs, and also creates an exchange on this genre.
This year, the festival comes with the theme 'For a free circulation of bodies and desires' as more and more walls are built between those who have everything and those who have nothing, and misogyny and homophobia (even hidden behind with a good conscience) are walls erected between bodies and desires.
The festival will feature a wide range of activities such as displaying artworks in different countries, workshops on awareness and creations as laboratories of experimentation, inspiration and education, conferences about the history of video art and about the international creation, international screenings that artists always accompany and which are written as poems. Moreover, the festival will bolster development of methods of preservation, archiving and dissemination of multimedia arts and international cooperation shaped like a constellation, in which the artistic creation is approached as an essential component of the society, dealing with social, political and cultural issues.
The submissions can be sent to Les Instants Vidéo Numériques et poétiques, Friche la Belle de Mai – 41 rue Jobin – 13003 Marseille – France or [email protected] Entry form can be downloaded from www.instantsvideo.com/blog/en/archives/1204.
Deadline for submission is June 13.
Concert to feature Vietnamese folk songs
Some of the well-known Vietnamese vocal compositions from the 20th century will be performed at a concert called "Vietnam – our heritage, our love" under the baton of Vietnamese conductor Tran Nhat Minh.
At the concert set for 8 p.m. on June 8 at HCMC Opera House, audiences will be entertained by talents of the Choir of HCMC Ballet Symphony Orchestra and Opera (HBSO), Children Choir and other HBSO artists such as Nguyen Thi Thanh Nga, Ho Hoang Ngoc, Tran Duy Linh, Dinh Trung Kien, Nguyen Thi Nhu Ngoc and Nguyen Minh Khoa.
Great oldies of many Vietnamese generations such as Tình Ca by Hoang Duong, Song Lo by Van Cao, Nguoi Ha Noi by Nguyen Dinh Thi and Dat nuoc tinh yeu by Le Giang will be performed in the first part. For the second half of the evening, HBSO will present composer Tran Manh Hung's folk suite The Flow choreographed by Tran Phuc Hai. Scored for soloists, choir, children choir and symphony orchestra, the composition strings together with 21 different folk songs from all over Vietnam to tell a simple yet colorful story of a person's life.
Tickets cost VND400,000, VND350,000 and VND200,000 per person. Students just pay VND80,000 for a ticket. For ticket booking and delivery, contact 08 3823 7419 or visit www.ticketbox.vn.
Vietnamese violinist gigs with University of North Texas artists
Internationally acclaimed Vietnamese violinist Chuong Vu will give a gig with his friends – violinist Felix Olschofka, viola artist Daphne Gerling, cellists Grace Ho and Dan Totan and conductor Clay Couturiaux from the University of North Texas – at the concert 'Young Melody' at HCMC Opera House at 8 p.m. on Thursday.
The concert will also feature talents of artists from HCMC Ballet Symphony Orchestra and Opera (HBSO).
The concert will entertain music lovers by world-famous pieces by renowned composers Wolfgang Amadeus Mozart and Johannes Brahms and Edward Elgar. Introduction and Allegro for String Quartet and String Orchestra, op. 47 by Elgar and Sinfonia Concertante for violin, viola & orchestra in E-Flat Major, K.364 by Mozart will be played in the first part. Meanwhile Concerto for violin, cello & orchestra in A Minor, op. 102 will be staged after that.
Praised for his "exquisite playing" by Pulitzer Prize-winning composer Yehudi Wyner, violinist Chuong Vu, whose Vietnamese name is Vu Viet Chuong, has performed as a soloist, chamber musician, and orchestra member throughout North and South America, Europe, and Asia with repertoire ranging from early baroque to modern music. Vu has appeared as a soloist with orchestras and at many international music festivals.
As a native of Vietnam, Chuong Vu began playing the violin at the age of six. A year later, he made his concerto debut, playing Vivaldi's Concerto, RV 509 with the HCMC Conservatory Chamber Orchestra conducted by his first violin teacher, Moscow-Conservatory graduate Bui Cong Thanh. At the age of eleven, Vu won Special Prize at the Vietnamese National Violin Competition "Young Talents."
As the recipient of the prestigious Lack Starling Scholarship from the Starling Endowment, Vu earned both his Bachelor and Master's degrees in Violin Performance from the University of Houston. He is currently pursuing his Doctorate in Violin Performance under professors Philip Lewis on modern violin and Cynthia Roberts and Paul Leenhouts on Baroque violin at the University of North Texas, where he holds a doctoral fellowship and a teaching fellowship.
Vu is currently on the faculty of the Tarrant County College in Arlington.
Admission is free.
VNN/VNS/VNA/VOV/SGGP/SGT