Thach Kim Tuan beats world records in Kazan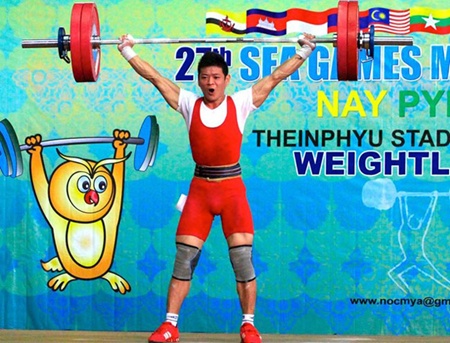 On the first day of competition, Tuan outplayed his Thai and Italian rivals to make a hat-trick in the 56kg weight category.
He lifted 133kg in the snatch in his second attempt, 1 kg more than the world record set by China's Long Quingquan, and lifted 160kg in the clean and jerk, 16kg more than second placed Kruaithong Sinphet of Thailand. With a total weight result of 239kg, Tuan completed a hat-trick for him.
At the World Weight-lifting Championship 2013 in Poland, Tuan only secured three bronze medals after lifting 127kg in the snatch, 157kg in the clean and jerk, and 283kg in total.
The World Junior Championships in Athletics is taking place in Kazan from June 21-28 with the participation of 336 athletes from 53 countries and territories competing for 15 sets of medals.
Vien shines at regional swimming meet
Viet Nam's Nguyen Thi Anh Vien made a strong impression on the last day of the second South East Asia Swimming Championships yesterday in Singapore.
Taking part in two events, Vien easily showed her domination and pocketed two records and two titles.
It is her seventh record and ninth gold medal in Singapore.
Her male teammate, Lam Quang Nhat also picked up his first gold medal here in the 1,500m freestyle event. Nhat, the SEA Games defending champion, clocked 15min 48.26sec. Prawira A Fadlan of Indonesia and Teo Zhen Ren of the hosts came second and third, respectively.
The men's 400m medley team later pocketed a bronze medal and finished behind Indonesia and Singapore.
The hosts began the day with two victories in the women's 50m freestyle and 50m breaststroke events, in which Amanda Lim and Lionel Khoo made one record each with a time of 25.74sec and 28.93sec, respectively.
However, Vien made it a day for the Viet Nam team, as she finished the women's 200m backstroke with a time of 2min 12.74sec, beating her own record of 2:13.84 set up in 2012.
Later, the Olympian shone in the 200m individual medley, clocking 2:14.58, which was much quicker than what she recorded (2:17.67) two years ago.
On Saturday, Hoang Quy Phuoc took his second gold here after winning the men's 100m freestyle event with a time of 50.06sec. His result is also a new record, eclipsing the old one of 50.66sec by Danny Yeo Kai Quan of the hosts.
Later, Vien set her fifth record here in the 800m freestyle event. The 17-year-old picked up her seventh gold medal after finishing with a time of 8:40.75, nearly 12sec faster than the Malaysian Khoo Cai Lin's 8:52.45 years ago.
Vietnamese swimmers also earned a bronze medal in the men's 200m backstroke, when Tran Duy Khoi finished third behind Ricky Anggawijaya and Gede Sidman Sudartawa, both of Indonesia.
The Can Tho Province-born girl became the best athlete of the tournament. Her achievement played a key role in helping Viet Nam, with a tally of 12 golds, replace Singapore (11) at the top of the overall ranking table. Singapore had dominated the position from the first day on June 17. Thailand were at third, grabbing eight titles.
Quan overcomes rivals to take first place at amateur competition
Truong Chi Quan clinched the top place at the Viet Nam Amateur Golf Championship organised at the Da Lat Golf Palace, Lam Dong Province, on Saturday.
Quan's 14-over par 289 after four days made him the new winner of the national and most important event of the year.
Last year, he lost his title to Do Le Gia Dat in the last holes.
The first runners-up was Andrew Hung Pham with a score of 23-over par, followed by Tran Minh Tan with 27-over.
In the non-amateur group, Doan Van Dinh defended his title with a 13-over par 289 result.
Former national champions Nguyen Van Thong and Trinh Van Tho shared the two places below.
T&T return to top of the V-League following thrilling encounter
Ha Noi T&T returned to the top of the V-League tennis rankings after their 6-4 win over Quang Ninh Coal yesterday on their home turf in the capital's Hang Day Stadium.
T&T now have 38 points after 16 matches, two more than Becamex Binh Duong, who had an unexpected draw against Dong Nai yesterday.
Thanh Hoa, who tied with former champions Hoang Anh Gia Lai 2-2, are at third place with 33 points.
Elsewhere, Song Lam Nghe An defeated Hai Phong 5-2 and jumped to the fifth position. V-League's runner-up SHB Da Nang won 4-2 over Dong Tam Long An, placed second from the bottom, on Saturday.
Bottom-placed team Hung Vuong An Giang managed their best win of the season after beating Quang Nam 5-3, narrowing their gap with the above group.
U19 draw in friendly match against Japan's Kansai University
Viet Nam's U19 team let victory slip away in the last minutes in a friendly match against Kansai University student's team yesterday in Japan.
Playing with their best formation, the Vietnamese quickly scored three goals and expected to a win after a humiliating 1-7 loss to Hanna University last week.
Midfielder Luong Xuan Truong scored the opening goal in the first half and striker Van Long made a double in the second.
However, their poor physique saw them get exhausted, when the game went almost to the wire, and the hosts easily levelled the score .
After the match, coach Graechen Guillaume of Viet Nam said he was satisfied with the playing style of the team, who controlled the match and converted opportunities into goals.
However, he said his defenders made mistakes at the end of the game, giving chances to the hosts to score.
The next match of the Vietnamese team will be on Wednesday against Gamba Osaka's U18 squad.
Vietnamese gymnasts limber up for Mexico
Twelve Vietnamese athletes are set to compete at the 2014 World Aerobic Gymnastics Championships and World Age Group competitions from June 23-29 in Cancun, Mexico.
They will compete in the mixed doubles, men's singles and trio events.
The event will attract nearly 600 gymnasts from 42 countries and territories. Russia and Mexico, two nations with especially strong Aerobic traditions, are sending the maximum number of athletes to compete in each category, maximizing their medal-earning potential.
Among the big names expected to compete are reigning World Games champions Benjamin Garavel of France in the men's individual, Oana Constantin of Romania in the women's individual, and mixed pairs Garavel and Aurelie Joly of France, Vicente Lli and Sara Moreno of Spain, Maria Bianca Becze and Marius Ciprian Petruse of Romania and Tran Thi Thu Ha and Vu Ba Dong of Vietnam, all of whom shared one very crowded place spot on the podium at the World Games in Cali, Colombia last year.
VNS/VNA/ND/VOV