VietNamNet Bridge – Lately, there has been much talk about the quality of several television reality shows, from the top-notch to the small-scale kind. The issue revolves around the question of what the producers really care about – the quality of the shows or the popularity of the people who are their hosts.
To begin with, one of the most-viewed TV programmes, Master Chef Viet Nam Season 2, the Vietnamese version of the popular international reality TV show Master Chef, has been embroiled in controversies over its hosts.
The judges included Tang Thanh Ha, a well-known actress; Luke Nguyen, a Vietnamese Australian chef; Pham Tuan Hai, a Vietnamese celebrity chef; and Nguyen Kim Oanh, a businesswoman. With this lineup, the show promised to be a huge success.
Apparently, of the four, it was Ha who enjoyed the support of most of the TV show's audience. A celebrity renowned for her elegance and wit, she had just left the entertainment world behind and had committed to the cuisine business. According to the show's producers, this explains why she was invited to become one of the four hosts of Master Chef this year.
But after three episodes, Ha became the centre of social pressure from the audience and in online forums. In those episodes, Ha reportedly accused a contestant of not having any passion for food after he admitted joining the show for the big reward: money. She also reportedly made vague comments about some of the contestants' dishes.
According to most of the viewers, Ha was not a professional chef, as she had entered the cuisine business for just a few months and was not experienced and qualified enough to make a judgement on the show's competitors.
"I cannot believe she is qualified enough to become a judge of such a huge competition. Why do models and actresses become food judges so easily? How can they turn a large-scale contest that aims to find talented cooks into the playground of entertainers? All they need is money and they can become the judges of any reality show they want," said Nguyen Ngoc Ha, a viewer.
Another viewer, Truong Tan Nam, remarked: "We need straightforward professional judgements, not vague and general ones. As for Ha, sending the architect home for saying he was in the show for the money was absurd. It is not important what people came to the show for. What really matters is whether he or she has genuine talent for cooking and did not break the rules of the game. In Master Chef US, it is normal for someone to join the game for money. Why do they have such an odd rule in Viet Nam?"
Other viewer said Ha's comments and reactions to the show's contestants were giving the food industry in Viet Nam a dark future.
Frankly, Ha was only 27 years old when she became a host of Master Chef and is the youngest of the four hosts. In the eyes of the audience, the actress is so inexperienced both in her life and career that she is incapable of working in such a prestigious show.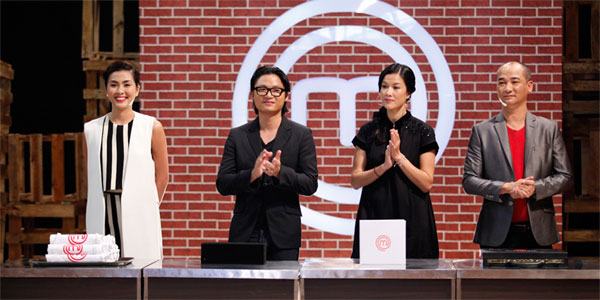 Tran Phuong Dung, a fan of the show, disagreed, saying it wasn't right to put all the blame on Ha.
"Some are commenting because they are jealous of her, as she is young, beautiful and rich. Why don't you take a look at Hai? Although he is a celebrity chef, he does not own a restaurant chain like Ha, and he represents the sponsors and producers on the show. He has not been acting like a celebrity chef," commented Dung.
Luke Nguyen, the Vietnamese Australian chef who is also one of the hosts, likewise praised Ha.
"In the Australian version of Master Chef, two of the four hosts are food critics who do not need to know how to cook but must have a certain knowledge of food. In Viet Nam, we have not yet had a critic for a judge. As an actress, she also owns a restaurant where 80 per cent of the recipes are her own creations. I think she is a true expert, as she knows every single kind of seasoning and flavour and knows how to present a dish!" said Nguyen.
Ha has since left the show to take care of her family's business. She has so far refused to comment or respond to any question on the matter.
In their development of reality TV shows, the number of judges has been a headache to producers. If they wish to attract the audience's attention, they are expected to choose famous faces in related fields.
In general, it would not be simple to just look for celebrities everywhere, as they are limited in experience while the number of shows are growing day by day. In the maze of reality TV shows, the market for judges is more classified: prestigious and powerful faces are chosen for top-rate shows while the less famous ones are for second- or third-rate shows.
In the same position as that of Ha is film director Le Hoang, a familiar face in a couple of reality TV shows ranging from music and dancing to food. Recently, he was invited to be a host of Vao Bep La Chuyen Nho (Cooking is Easy), though he admitted knowing zilch about affairs of the kitchen but savoured delicious food.
"I was recognised by many people as the man who earns a living by bearing the title of judge. If I do not accept, others will. This is a chance to show my face to the audience. Why should I hesitate to do so?" quipped Hoang.
In Ngoi Sao Viet (Viet Nam Star), the Vietnamese version of a popular Korean show, the choice of Vietnamese dancer Jonny Huy Tran as host, along with pop singer Nguyen Phuong Thanh and two other Korean judges, has made the audience wonder whether a big mistake has been made. This is also true of Viet Nam Idol's Nguyen Huong Giang, a transgender contestant who was also selected to be a judge in another singing contest.
"Viet Nam Star is a song contest, but Jonny is a professional dancer. He knows nothing about singing. How can they make him a judge of that show?" commented Nguyen Ngoc Thu, a viewer.
Music critic Nguyen Quang Long, who has studied the Vietnamese music industry for quite some time, warned that it was alarming for the development of the nation's culture if these reality TV shows were to continue.
"It takes a long time and much money and sweat to give birth to a genuine artist. The public does not need fame, as this is much too easy to make. An artist must be the one who beautifies the spiritual life of the people. TV producers and sponsors today are just focusing on making profits and are putting fame and scandal in the same position," Long noted.
"If the culture authorities do not take drastic solutions, this will distort and even damage the taste and culture of audiences," he said.
Even so, life continues. Who can be certain that, sooner or later, there will not be more reality TV shows that put profit over the benefit of the public?
VNS/VNN