Due to what many perceive as an opening for high-tech applications, Vietnam's agricultural sector has been becoming increasingly attractive to foreign investors.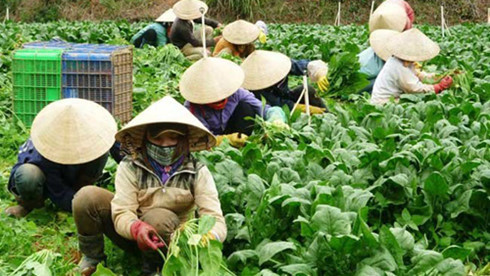 According to the Ministry of Agriculture and Rural Development (MARD), since early this year the number of foreign firms exploring business and investment opportunities in the agricultural sector has significantly increased. Many want to deploy high-tech projects in Vietnam.
MARD Minister Nguyen Xuan Cuong last week worked with Adam Blight, director of Government Affairs in Asia and Africa at US-based Monsanto Group.
Blight said that Monsanto is interested in deploying a pilot project on applying IT in agricultural production in Vietnam.
This project got the thumbs-up from Cuong, who expects it to be implemented as soon as possible.
Currently, Monsanto is locally trading in cross-bred maize, pesticides, and micro-organism products.
It has also deployed a public-private investment in the central province of Thanh Hoa that supplies high-quality maize varieties and pesticides which can help farmers increase their crop productivity by 10-15%.
Cuong also worked with Microsoft Group, which hopes to cooperate with MARD's Department of Science and Technology on an IT project.
More discussions are to follow in the near future.
"Vietnam is welcoming many foreign-invested agricultural projects," Cuong said.
Chang Bok Sang, president and CEO of the Republic of Korea-invested subsidiary firm CJ Group in Vietnam, recently told Minister of Planning and Investment Nguyen Chi Dung that CJ Vina will build another two factories to process meat and aquatic products in Ho Chi Minh City, where it currently has a foodstuff-making factory.
Also, CJ Vina will build a foodstuff safety centre there.
One month ago, CJ's subsidiary company CJ Vina Agri Co., commenced the construction of its sixth animal feed mill, a US$19.4 million complex in Nhon Hoa Industrial Park in the south-central province of Binh Dinh.
The 4.1 hectare mill will have an annual capacity of 150,000 tonnes, and is scheduled to become operational in January 2018.
In July 2016, the firm was licensed to build a fifth animal feed mill at a cost of US$31.4 million in the northern province of Ha Nam.
In another case, Australian-Vietnamese joint venture firm Mavin Austfeed inaugurated its sixth animal feed mill in late February 2017 in the central province of Nghe An.
The 3.6ha facility will annually produce 300,000 tonnes of feed per year.
To further develop its integrated food chain, the firm also plans to open a US$16 million pig farm in Nghe An next year.
Meanwhile, Thailand's Bangkok Ranch is reported to have a plan to establish a joint venture with Vietnamese partners, aiming to swell its food business in Vietnam.
Bangkok Ranch will hold a 49% stake, and its Vietnamese partners will hold the remaining.
In order to lure more foreign investment into agriculture, MARD has sent a draft decree on incentives for foreign agricultural investment to the prime minister for approval.
Under the draft, incentives will be given to foreign investors in four sectors-the development of plant varieties and breeders, production of supporting materials that can create high added value, intensive processing of agro-forestry-aquatic products linked with material areas and export, and production of veterinary medicines and pesticides.
MARD expects that the decree will help raise Vietnam's foreign agricultural investment from the current US$3.5 billion, to US$4.45 billion in 2020 and US$6 billion by 2030.
VIR