(VOVworld) – National Assembly deputies discussed the draft law on referendum and draft revisions to the Maritime Code on Wednesday. They agreed that the National Assembly discussing the draft law on referendum was a step forward in the making of Vietnamese law, allowing citizens to contribute to all major national issues. They also agreed that referendums should be held nationwide rather than in one locality only. They suggested that the draft law include punitive measures for organizations and individuals who abuse democracy and people's right to referendums to violate the constitution. Uong Chu Luu, Vice Chairman of the National Assembly and a deputy for Thanh Hoa province. said: "The organization of a referendum can be decided only by the National Assembly, the President, the government, and one third of National Assembly deputies. According to the Constitution, the National Assembly will make the final decision."
Deputies agreed on the need to revise the Maritime Code to boost Vietnam's marine economy and to conform to international maritime conventions, of which Vietnam is a member.
Earlier, they discussed the draft law on the election of deputies to the National Assembly and People's Councils. Some said that the draft law should include the role of Vietnam Fatherland Fronts in verifying the qualifications of nominees.
Nguyen Thi Phuc, a deputy for Binh Thuan province said: "I agree that the National Assembly Standing Committee should propose the number of deputies from central organizations and localities should nominate candidates to represent voters nationwide. 18% of the nominees should be from ethnic minorities and at least 35% of the nominees should be women. This indicates significant improvements in the current Law which conforms to the Politburo's Resolution No. 11 on women's role in Vietnam's industrialization and modernization, and the National Strategy on gender equality in the 2016-2020 period".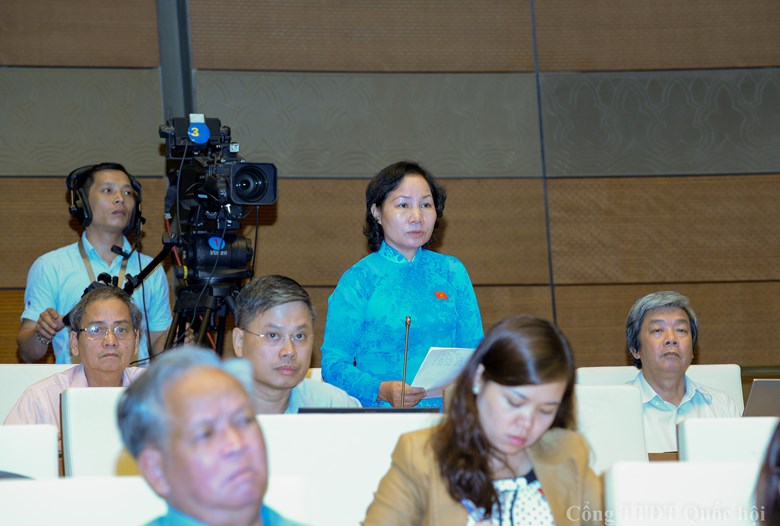 Deputy Nguyen Thi Phuc speaks at the meeting. Photo: quochoi.vn
Deputies will discuss the Long Thanh International Airport project on Thursday.