Tuesday, October 11, 2016 – 15:33:00
(VOVworl) – Vietnam has defined economic growth and environmental protection as a primary target in selecting investment projects. Environmental protection should be included throughout Vietnam's development process.
The environment in Vietnam is under great socio-economic pressure. More than 280 industrial zones discharge 550,000 cubic meters of waste water every day and night. Only 5% of Vietnam's industrial zones have adequate waste water treatment. Thousands of businesses involved in mining, building materials, and handicraft products have polluted the environment. The use of biological resources has led to shrinking ecosystems.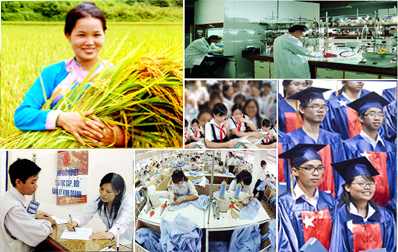 At a recent national meeting, Prime Minister Nguyen Xuan Phuc confirmed a ban on productions using backward technology that might pollute the environment. Deputy Minister of Natural Resources and Environment Vo Tuan Nhan said Vietnam intends to develop its economy without destroying the environment. Vietnam wants to attract and creates favorable conditions for investment projects that are technologically modern and meet environmental protection standards. Mr. Nhan said: "We encourage investment in hi-tech projects. In the near future, each province will adopt an environmental protection plan. Projects viewed as environmentally-harmful should be prohibited. We demand high tech projects that meet Vietnam's criteria and are in appropriate locations. These considerations will be included the plan."
Deputy Minister Nhan said Vietnam's policy of economic growth combined with environmental protection matches the regulations of the new trade deals Vietnam is about to participate in. But he called for a more coordinated technological infrastructure in Vietnam: "The national meeting on environmental protection chaired by the Prime Minister delivered a message of "economic growth parallel with environmental protection" and included it in Vietnam's program of action. Vietnam's membership in a new generation of free trade deals means international integration, which requires better public awareness of environmental laws and more efforts on the part of businesses to abide by the laws. This is a challenge, but also an opportunity for Vietnam's sustainable development."
Van Anh