VietNamNet Bridge – Culture researcher Huu Ngoc has been awarded Grand Prize at the Bui Xuan Phai – For the Love of Ha Noi Awards for lifelong research and huge contribution to popularising Ha Noi culture.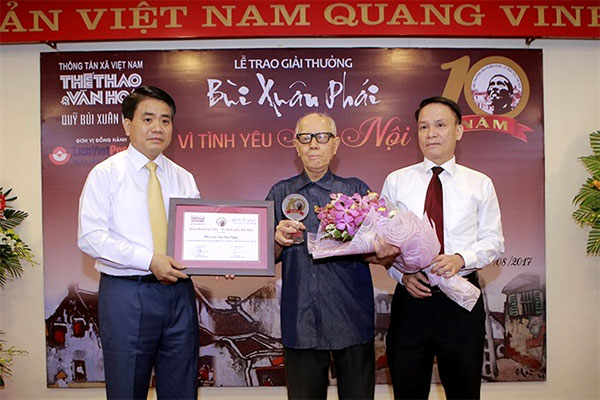 Doyen of culture: Chairman of Ha Noi People's Committee Nguyen Duc Chung (left) and Vietnam News Agency General Director Nguyen Duc Loi fetes veteran culture researcher Huu Ngoc. — Photo thethaovanhoa.vn
In 70 years of writing, the researcher has penned about 34 books in foreign languages including A Sketch of Ha Noi Culture in English and French. The book was a special present to the leaders at the 7th Francophone Meeting in Ha Noi in 1997. 
At that time, it was the first book introducing Ha Noi to foreigners since 1945. It was reprinted in 2010 on the occasion of celebrating Thang Long – Ha Noi's 1000th anniversary. On this occasion, Ngoc was commissioned to compile Hanoi, Who Are You? in English. 
"I wrote A Sketch of Ha Noi in three months," Ngoc recalled.
Ha Noi has been a main theme in many of his works. Another of his books, My Ha Noi, is about his foreign friends who have been living and working in Ha Noi. Throughout the 500-page book, readers can vividly see how much the foreigners love Ha Noi. 
Born in 1918 in Ha Noi, Huu Ngoc is fluent in English, French, German and the Han (Chinese) script. He was won many awards including the Order of Exploit and Order of Independence from Vietnamese Government; Order of the Polar Star from Sweden; and the French Academic Palm. 
He was a regular contributor to Le Courrier du Vietnam and Viet Nam News for many years. 
The Grand Prize was among the top honours awarded at a ceremony held yesterday at the headquarters of the Vietnam News Agency.
Other awards included the Idea Prize; Job Prize and Work Prize.
The Ha Noi Transport Department's project on new system to reduce traffic congestion and environment pollution from 2017 – 2020 with a vision until 2030 won the Work Prize. 
"The award will encourage us in implementing the project," said Ngô Anh Tú, director of the department's Science Research and Training Centre. "The project aims to build a modern traffic system in Hà Nội, providing better public transportation services to residents," he said.
The Job Prize went to the Ha Noi People's Committee and American Paul George Harding. The committee's decision to open walking spaces around Hoan Kiem Lake and pedestrian only streets has been welcomed by thousands of people, including local and foreign tourists, who flock to the Old Quarter to enjoy walking as well as cultural, musical and art performances, including photo exhibitions and dragon dancing, every weekend. 
Harding, an American veteran, is being recognised for his efforts to clean advertisements posted illegally on public walls, inspiring local youth and hundreds of his Vietnamese students to do the same.
The Work Prize was also given to late writer Bang Son and photographer Nguyen Huu Bao. Son won the award for his books and 3,000 notes about Ha Noi. His two most popular works Thu Lang Thang Nguoi Ha Noi (Hanoian Enjoys Hanging Out) and Thu An Choi Nguoi Ha Noi (Hanoian Tastes) have been reprinted recently. 
Bao's photo book My Dear Ha Noi is a collection of ten photographic "short stories" about daily life in the capital city that he recorded over three decades (from 1978 to 2015). 
The Bui Xuan Phai – for Love of Ha Noi Awards were launched in 2008. The awards are named after renowned painter Bui Xuan Phai (1920-88) whose iconic works on the capital city has achieved global fame and recognition.
Source: VNS