VietNamNet Bridge – Karate is back in the SEA Games this August, following its absence in Singapore two years ago.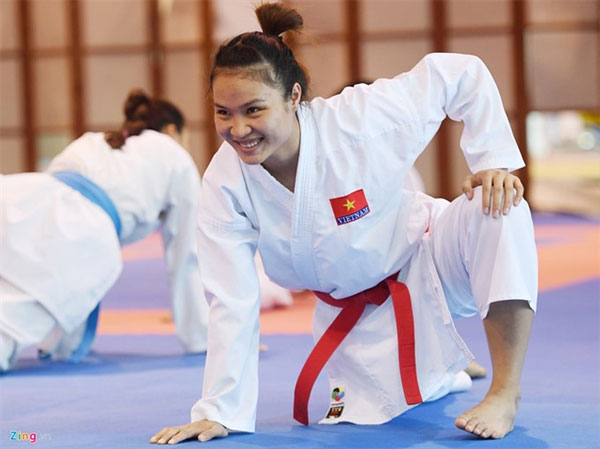 Nguyen Thi Hong Anh in a training shift in Ha Noi. She is the national hope for karate gold medal at the SEA Games. — Photo zing.vn
Viet Nam's athletes are hoping to secure four gold medals and stay in the top three after a successful 2016 season.
Malaysia, the hosts, would be the biggest challenge. They topped the medal tally at the 27th Games in Myanmar winning seven out of 17 titles, while Viet Nam bagged three to stand second.
The young martial artists, it is hoped, will make a bang.
"Our team are in the process of rejuvenation. However, the athletes have made remarkable improvement, especially the women. It is the reason we believe we will win gold medals in Kuala Lumpur," Vu Son Ha, head of Karate Department of the National Sports Administration, said.
Athletes have been summoned from the beginning the year. They are aged 18-20 in the kumite (combat) team and 16-20 in the kata (performance) squad.
Many of them have bagged medals from continental and world events in the last two years.
Nguyen Thi Ngoan is one of the best athletes in the kumite team, trained by Iranian Sayed Hassan Shaterzadeh.
She won a bronze at the Karate1-Premier League, the world's most important league event, in the women's 61kg in April.
Ngoan also pocketed a gold medal from the Asian championship for U21 athletes last year.
In addition, the fighter, who competes in the women's 68kg class, won a title at the Southeast Asian championship in the same year. Later on, she was fourth in the world tournament.
Nguyen Thi Hong Anh is another medal hope. She earned a silver medal at last month's Asian tournament in the women's 68kg category.
Other athletes who are promising are Trang Cam Lanh, who won a silver medal at the world youth championship in the women's 55kg category in late 2015; Nguyen Thi Viet Trinh, an Asian U21 68kg silver medalist; and Asian U21 bronze medal holder Tran Thi Khanh Vi in the women's 50kg category. While the Vietnamese women won gold in all SEA Games they participated in, for the men, the last title was won at the 2009 Games in Laos.
They failed to win at Myanmar's Games in 2013, although they entered five semi-final matches.
At the upcoming event, Nguyen Minh Phung will be the most experienced athlete, winning a team title in the 2009 Games in Laos.
At 24, Phung has showed his potential, and according to coaches, if he can maintain his peak at the Games, he will definitely beat any strong rival in the 75kg pool.
"A training course in Iran for the team in July was really helpful. They are more confident and improved their technique a lot. Now we are waiting for positive results," Ha said.
"This generation of Viet Nam could attain high results from elite competitions in the future. They can even win Olympic medals if they receive stable and strong support from the government," he said.
On the kata side, Le Thi Phuong and Le Khanh Ly, who won bronze medals at the world youth event in 2015, are key players.
They are training under former world champion Nguyen Hoang Ngan, who won her last SEA Games gold medal in 2013 before retirement.
"They are still young, and for some of them it is their first SEA Games, so we are hoping to see them perform their best, not necessarily win a medal," Ngan said.
Vietnamese male performers have never won a title at this regional Games.
Karate will be organised on August 22-24 at the Kuala Lumpur Convention Centre.
There will have 16 events for both kumite (12) and kata (four) for both men and women.
Source: VNS