VietNamNet Bridge – "Abandoned by Heaven", a solo exhibition of oil and Dong Ho folk paintings on canvas by Hanoi-based artist Bui Thanh Tam will be held from now to November 2 at Craig Thomas Gallery, 27(i) Tran Nhat Duat Street, Tan Dinh Ward, Dist. 1, HCM City.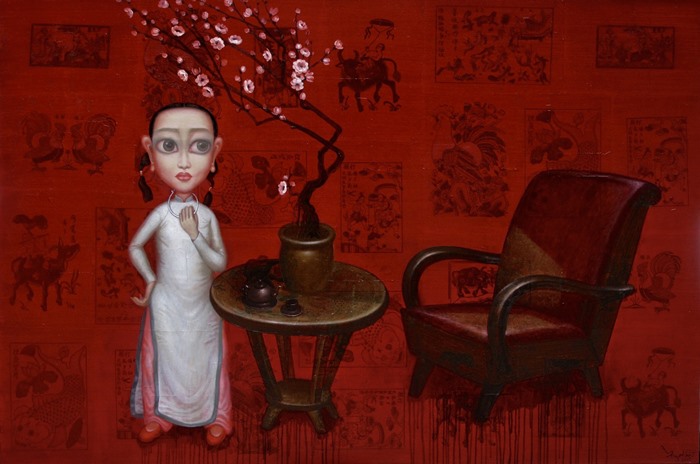 At first glance, the paintings of Bui Thanh Tam's "Abandoned by Heaven" collection project an air of innocence and a pollyanish sense of contentment. The doe-eyed figures in the paintings look to be in the midst of living happy and prosperous lives, but there is something amiss lying just underneath the surface of the paintings. 
The most easily distinguishable signal is given in the form of the twisted branches of the peach blossom trees featured in many of the paintings. They are in full bloom which brings associations of spring and renewal, but the unnatural positions of the branches suggest a conscious contortion that has distorted what was once beautiful and pure.
The material progress the country has made over the past two decades is undoubtedly a profoundly positive development for the great majority of its citizens, but it also comes with certain costs that can be measured and quantified in terms of environmental degradation and other negative side effects. 
In his role as a contemporary artist, Tam feels a responsibility to do a more abstract calculation of the cultural costs that have been associated with Vietnam's recent period of rapid urbanization and economic development.
Arising in China in the 1990s, the work of the Cynical Realists used humor and irony in confronting their society's socio-political issues through their art. 
Featuring characters that often shared the exaggerated grinning face of the artists themselves, the art of the Cynical Realists focused on the transition from the old to the modern that China was experiencing and the confusion arising therefrom. 
In a similar way, Tâm's paintings can be seen as cynical commentaries on the state of contemporary society in Vietnam.
The traditional themes of Dong Ho paintings include good luck signs, historical figures, folk allegories and popular stories. 
The compositions tend to reflect the lifestyles and concerns of a rural people living in close commune with nature. 
Once produced by hundreds of craftspeople in a number of villages of Northern Vietnam, the practice has all but died out. Once a proud piece of Vietnam's cultural heritage, Dong Ho paintings are now likely to be produced on printing presses and sold as kitsch to foreign visitors to the country.PV