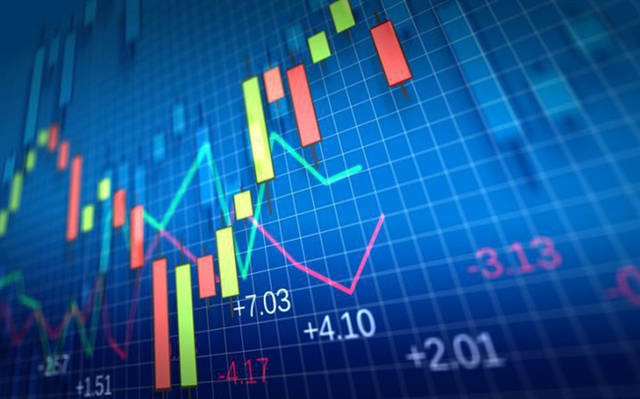 HÀ NỘI — Shares narrowed gains towards the end of the trading session on Monday but still managed to post slight gains, witnessing a large divergence among large-caps.
The VN-Index on the Hồ Chí Minh Stock Exchange inched up 0.11 per cent to end the session at 981.03 points.
The index had increased by total 0.58 per cent to finish last week at 980.00 points.
On the Hà Nội Stock Exchange, the HNX-Index edged up 0.23 per cent to end at 102.58 points.
It had lost total 0.43 per cent to end last week at 102.35 points.
Liquidity was modest with 179 million shares worth nearly VNĐ6.4 trillion (US$274 million) traded on the two markets.
The afternoon session witnessed a wide divergence among large-caps' prices.
Stocks such as Mobile World Group (MWG), FPT Corporation (FPT), Vicostone JSC (VCS) and Refrigeration Electrical Engineering Corporation (REE) attracted cash flow and simultaneously gained.
Blue-chips such as Bảo Việt Holdings (BVH), PetroVietnam Gas JSC (GAS), Masan Group (MSN), Vinamilk (VNM), Sabeco (SAB), Việt Nam National Petroleum Group (PLX), PVPower (POW), Vinhomes (VHM) and Vincom Retail (VRE) also made gains, helping the indices stay in the green.
The real estate group performed well with many gainers such as Đất Xanh Group (DXG), Bà Rịa-Vũng Tàu House Development Co (HDC), HDBank (HDB), Đà Nẵng Housing Investment Development JSC (NDN), Phát Đạt Real Estate Development Corporation (PDR), Thủ Đức Housing Development Corporation (TDH) and Nam Long Investment Corporation (NLG).
Meanwhile, petro stocks weakened in the afternoon with PetroVietnam Technical Services Corporation (PVS), PetroVietnam Transportation Corporation (PVT), Petroleum Equipment Assembly & Metal Structure Joint Stock Company (PXS) gained while PetroVietnam Drilling and Well Services Corporation (PVD) and PetroVietnam Construction Corporation (PVC) dropped.
The Vietnamese stock market was driven by the insurance, technology, real estate, securities, food and beverage, construction materials and retail sectors.
Their sector indices rose between 0.06 per cent and 0.51 per cent, data on vietstock.vn showed.
Large-cap stocks dropped with the VN30-Index decreasing by 0.07 per cent to end at 891.78 points.
Foreign investors net bought VNĐ881.19 billion on the HOSE, including Vingroup (VIC) (VNĐ937.96 billion), Vinamilk (VNM) (VNĐ36.43 billion) and Masan Group (MSN) (VNĐ6.73 billion).
The Vietnamese stock market is now under strong fluctuation from the uncertainty of global movements in political and economic conditions, said Lê Đức Khánh, director of market strategy department at PetroVietnam Securities (PSI).
The main concern is how the US economy, if it falls, will affect the Vietnamese economy, he said.
That concern is driving the market sentiment and results in the mixed responses among investors, he added. — VNS